'Comedy Nights With Kapil' Applauds Animal Adoption
When it comes to animal homelessness, the cast of Comedy Nights With Kapil knows that the situation is no laughing matter. Animals who are struggling to survive on India's streets face serious dangers every day, including abuse from cruel humans and fatal injuries – and countless dogs and cats are waiting in animal shelters for good homes. That's why Kapil Sharma, Sumona Chakravarti, Ali Asgar, Sunil Grover and Kiku Sharda are putting their star power to good use – along with Sharma's lovable rescued dog, Zanjeer – to promote animal adoption in a clever new ad shot by top photographer Gaurav Sawn for PETA.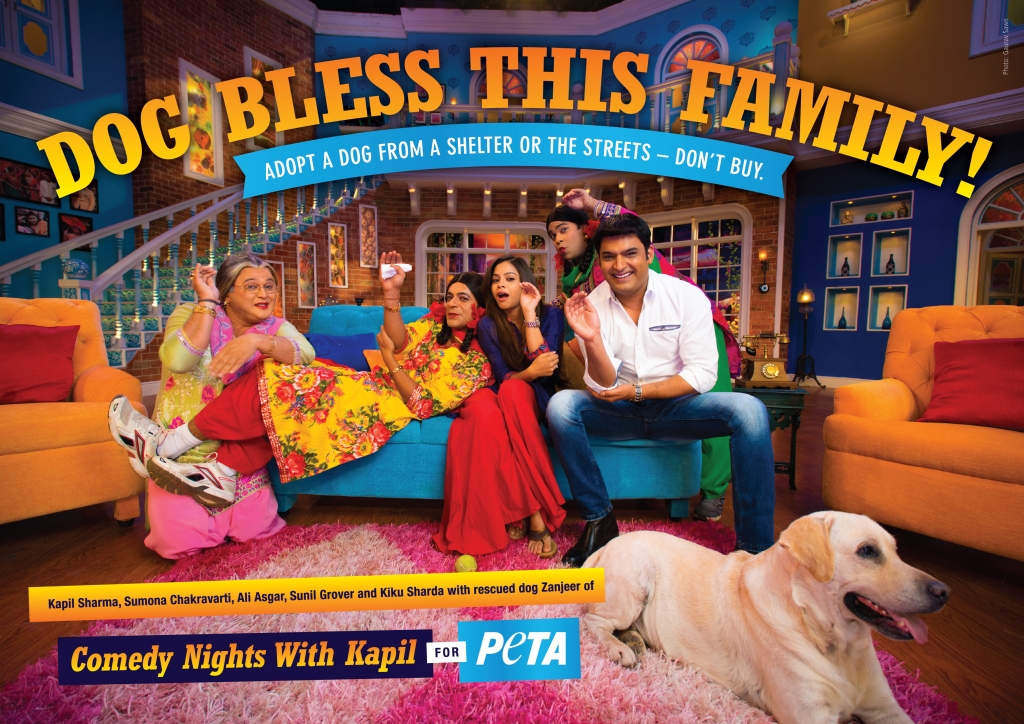 The sketch comedy masters know firsthand that rescued animals make the best companions. Honorary cast member Zanjeer, who accompanies Sharma to the set daily, has transformed the cast's working lives. "[N]ow, he is part of our family", says Sharma, who recounts one memorable incident in which Zanjeer, a retired police dog, attempted to break up a staged "fight" between two cast members.
It's no joke that the streets are full of animals who need loving forever homes. Dogs and cats forced to roam the roads in search of food and shelter often fall victim to cruel people, careless drivers and deadly, contagious diseases. Animal shelters are severely crowded and unable to meet the constant demand for more space. Breeders and pet shops worsen the animal-homelessness crisis, as the dogs and cats they produce steal homes from those who already really need them.
When it comes to homeless animals, Asgar – who plays Dadi on the show – wishes people would exercise more compassion and open their homes and hearts to a grateful new friend. "[A]ll these innocent animals who live on the streets, be it dogs or cats, they don't have homes or shelter …. People throw stones [at] them, torture them, and [the animals] get injured. They suffer from diseases, and there is no one to take care of them, so this is our responsibility", Asgar says.
You can be a hero like the comedy legends of Comedy Nights With Kapil by pledging to adopt animal companions from a shelter or the street and never buy them. Don't forget to sterilise your pawed pal so that more dogs and cats aren't born into homelessness.