John Abraham to MoEF:Enforce Jallikattu Ban
UPDATE: On 7May 2014, the Honourable Supreme Court of India banned jallikattu, bull races, bullfights and other uses of bulls in performances.
John Abraham sure has a golden heart when it comes to animals. This desi boy has been a long-time supporter of PETA India, so it's no surprise that when he learned about the plight of bulls who are abused for jallikattu, he sprang into action.
Even though the Ministry of Environment and Forests (MoEF) made jallikattu illegal by banning the use of bulls as performing animals, the Madras High Court Bench gave permission for jallikattu to be held in Tamil Nadu. John recently fired off a letter to Minister of Environment and Forests Jayanthi Natarajan to urge her Ministry to enforce the ban.
John wrote, "As an actor, I choose to perform, but animals used for jallikattu and bull races don't. During jallikattu, bulls are deliberately terrorised and made to suffer for entertainment. They are taunted by crowds, pushed, hit and wrestled to the ground. During bull races, the animals are often beaten with nail-studded sticks".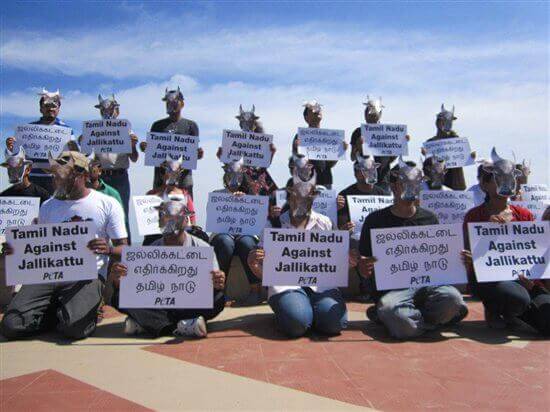 Thanks, John! PETA has held demonstrations on the streets of Delhi and Chennai to highlight the urgent need to enforce the ban on jallikattu. Bulls need you to speak up for them. Support John by taking a moment to write to the Ministry.