Gulshan Grover Says Pleather Is Better Than Leather
Gulshan Grover: What's Your Pleather?
When it comes to leather, pleather is better: just ask film legend and Bollywood "bad guy" Gulshan Grover In a new ad for PETA India, he bashes leather and sticks up for the millions of animals whose skins are stolen to make it. The stunning campaign was shot in Pico Studios in Los Angeles by Ash Gupta of Studio838 and 838 Media Group. Wardrobe styling was done by Pauline Leonard for Cloutier Remix, and Jasmine Ashcroft did the make-up, which featured Hourglass Cosmetics.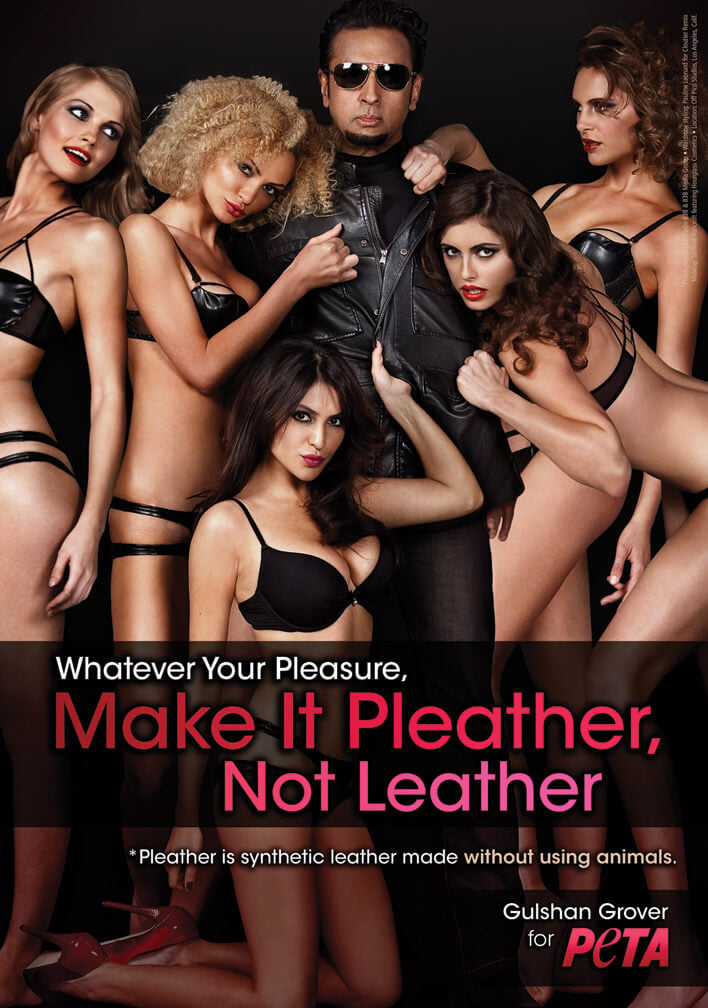 Grover won the Best Actor International Award at the 2011 New York City Film Festival for his portrayal of spiritual leader Dada Bhagwan in Desperate Endeavours. In an exclusive PETA interview, the talented Grover didn't pull any punches while voicing his feelings about leather: "When you shop leather, do you realise that somebody else is paying for it … with their lives? Wear something that you are looking killer in – but you are not killing anyone".
Cows, buffaloes and other animals who are killed for leather are hauled to slaughter by being crammed so tightly onto vehicles that they often trample and gore each other. Those who survive the journey are held down, and their throats are cut, often with dull knives, in full view of the other animals. Many of them are dismembered and skinned while they are still conscious.
Additionally, the chemical runoff from leather tanneries poisons rivers and streams and has been linked to cancer, respiratory infections and other illnesses in humans.
Gulshan may often play the bad guy in the movies, but he is always a good guy to animals. He has previously worked with PETA India to highlight the illegal overcrowding of cattle on their way to slaughter and to encourage people to adopt homeless cats and dogs.
Ready to follow Gulshan's lead? Pledge to swap the animal skins in your closet for cruelty-free pleather.