Help Your Animal Friends on Friendship Day
If you are reading this post, you probably agree with us that animals are our friends. So what better way to show them how much we care on Friendship Day (7 August) than by helping our human friends go vegan?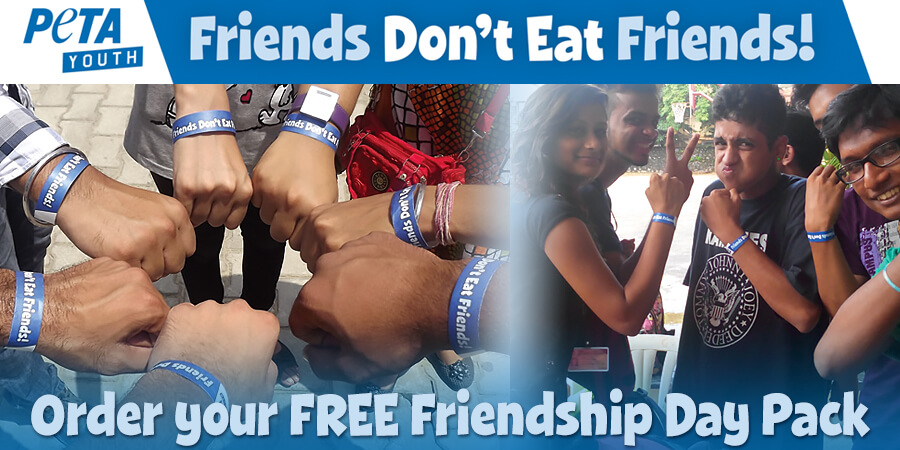 The theme of PETA India's Friendship Day celebration is "Friends Don't Eat Friends", and it's easy to join in on the fun. We'd love to send you a FREE Friendship Day pack, which contains the following:
Five friendship bracelets to share with your best friends
Pledge sheets that you can use to get your friends to sign up to go vegan
"Glass Walls", PETA's video exposé of the meat industry, narrated by R Madhavan, which can help persuade your friends not to eat your animal friends
Five copies of our vegetarian/vegan starter kit, which is packed with information about how going vegan saves animals' lives, helps the environment and can lower a person's risk of suffering from heart disease, diabetes, cancer, obesity and other health conditions
Stickers
A stack of leaflets!
And if you want to be extra-friendly, how about taking your newly vegan friends out for a soya latte from Starbucks or treating them with budget-friendly gifts?
How to Get Your Free Pack
Send your name, complete postal address with pin code, e-mail address and phone number to [email protected] by 29 July 2016, and we'll get your Friendship Day pack on its way to you. Be sure to write "Friendship Day pack request" in the subject line. By sending this information, you are acknowledging that you have read and that you agree to our privacy policy. This opportunity is open only to people who live in India.
After you get the pack, take some selfies and share the friendship bracelet, video and other information with your friends. Send them to us at [email protected] by 8 August, and we'll post the best images on PETA India's Facebook page and Twitter feed so that you'll have a chance to "share" the experience with your friends all over again. And don't forget to share the images on your pages on social networking sites, too. By sending your photos to PETA, you are acknowledging that you have read and that you agree to our terms of submission.
Let's get started!