CONTEST IS CLOSED! Help Elephants and Enter to Win neoVeda Products From Craft House!
Contest is closed. Here are the lucky winners:
Megha Fenin from Jaipur,
Shruti Londe from Nagpur,
and Sumant Srivastava from New Delhi
Elephants are India's National Heritage Animal. They're also the symbol of Craft House, a unique retailer that offers premium arts, crafts, and other products that are proudly handmade by artisans and craftspeople.
So it's fitting that Craft House has teamed up with PETA India to support our campaign to end cruel elephant rides. To celebrate this partnership, the brand is giving away a hamper filled with skin-pampering products to three lucky, randomly chosen winners!
This lavish hamper includes four new and bestselling products from neoVeda:
Glow Pure Essential Oil increases blood circulation to keep skin radiant
Body Renew Mango Cream reinforces skin's natural defence against pollution and weather
Skin Soft Silky Rose Soap reduces spots and discoloration while it cleans
Sleep Better Pure Essential Oil helps relax the mind to promote restful sleep and sweet dreams
All these luxurious products are certified cruelty-free by PETA and are free from harmful chemicals such as sulphate, silicone, mineral oil, triethanolamine, and phenoxyethanol.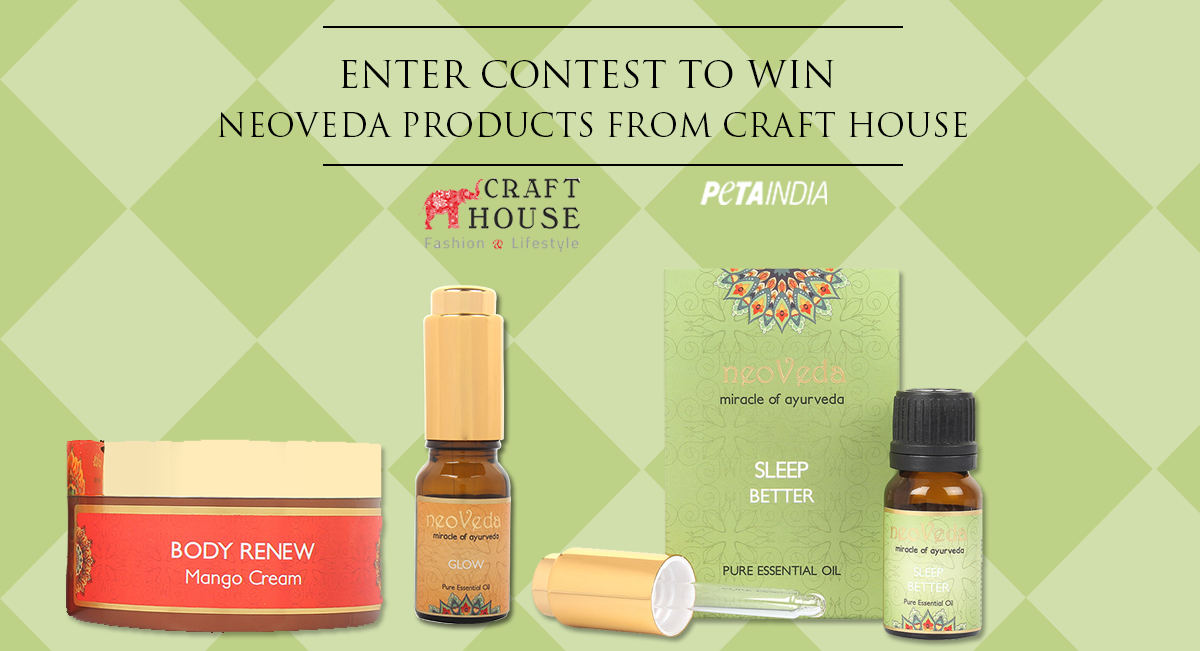 For many tourists, a visit to one of Craft House's locations (in The Metropolitan Hotel & Spa in New Delhi or at Terminal 3 at Indira Gandhi International Airport) is a must-do. But cruel elephant rides don't belong on anyone's itinerary.
To "break their spirits" and intimidate them into obedience, trainers routinely tear elephants away from their families, beat them with sharp metal-tipped ankuses, and keep them chained constantly when they aren't working. Many elephants are forced to carry tourists in oppressive heat, even when they're suffering from open wounds, foot ailments, and acute psychological stress. These gentle giants endure a lifetime of distressing work, violence, neglected injuries, malnourishment, dehydration, and intense confinement.
PETA India is calling on the Ministry of Tourism to end all elephant rides in India, and we're pleased to have Craft House's support of our campaign. The unique quality products offered by the brand are something India can be proud of, whereas abusing elephants for tourist rides is definitely not.
Please, add your voice to the call for an end to cruel elephant rides. And once you've done that, fill out the form below to be entered to win some fabulous products from Craft House!
This contest is for residents of India only. The call for entries closes on 12th April, and the winners will be announced by 15th April. No purchase necessary. Void where prohibited by law.
Are you a US resident? PETA US will show you some love by hooking you up with lots of other cool contests!
By filling out this form, you are agreeing to our terms and conditions.
By signing up here and giving us your contact details, you're acknowledging that you've read and you agree to our privacy policy.