Dozens of 'Elephants' Called for End to Rides in Jaipur
Wearing elephant masks and wrapped in chains, about three dozen members of PETA India and the youth organisation Innayat gathered in Jaipur and unleashed clouds of red powder into the air, reminiscent of the blood of the elephants who are violently trained for cruel and apparently illegal rides at Amer Fort in Jaipur and elsewhere.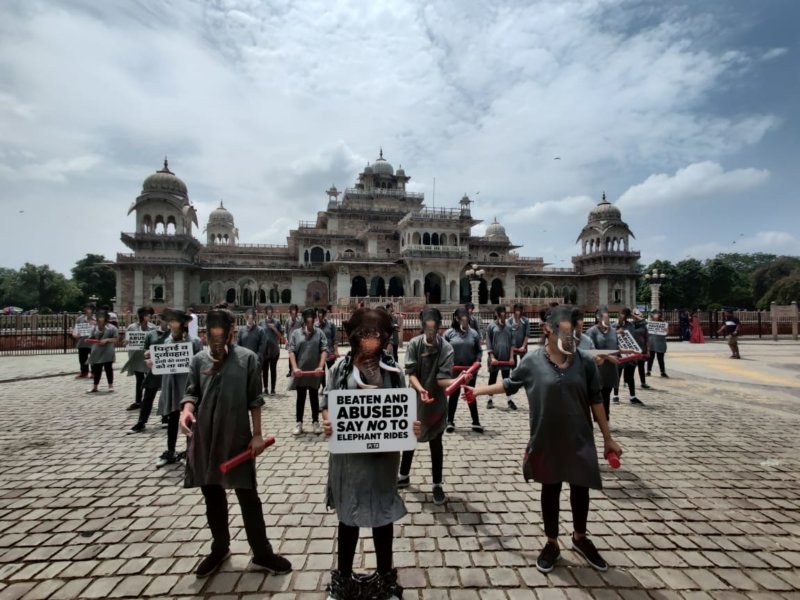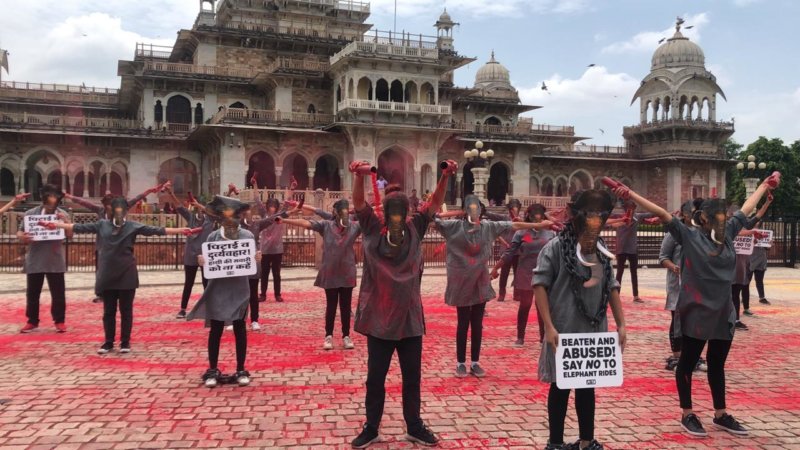 Elephants used for joyrides are torn away from their mothers as babies, beaten into submission, and forced to carry heavy loads of tourists, even as they go blind and suffer from contagious diseases. PETA India is urging travellers to skip the elephant rides at Amer Fort and anywhere else around the world.
WATCH this and tell us if you're few minutes' rides worth their pain? ?#WorldElephantDay pic.twitter.com/jTYkbrMFzz

— PETA India (@PetaIndia) August 12, 2019
When they're just 2 years old, baby elephants are torn away from their mothers and either tied up between trees with heavy chains and ropes – which cause painful burns – or confined to a cramped wooden enclosure called a kraal. Trainers then beat the young elephants with sticks and jab them with sharp, hooked ankuses to break their spirits and force them to obey – and trainers continue to yank, jab, and thrash the animals in order to force them to perform or give rides.
Last year, a report by inspectors authorised by the Animal Welfare Board of India (AWBI) found that some elephants used for rides at Amer Fort were visually impaired. In addition, some tested reactive for tuberculosis – which is transmissible to humans – and they were forced to carry loads heavier than the legal maximum of 200 kilograms. In addition, these rides are apparently illegal, because none of the elephants used are registered with the AWBI, in apparent violation of the Performing Animals (Registration) Rules, 2001, framed under The Prevention of Cruelty to Animals Act, 1960, as well as the 2010 order of the Rajasthan government mandating that the use of elephants in any type of performance, including rides, requires permission from the AWBI.
Recently, following inaction by officials, the Wildlife Crime Control Bureau (WCCB) – a statutory body established to combat organised wildlife crime in India – urged the Government of Rajasthan to submit an enquiry report on the illegal custody of captive elephants, who are likely used for the ivory trade. The WCCB acted in response to findings by the AWBI, which revealed that the tusks of many elephants had been cut off, raising suspicion that the ivory may have been sold illegally, and that there were problems with ownership certificates and other paperwork.
This is HAPPENING RIGHT NOW!

Blind and tuberculosis infected elephants are forced to haul crushing loads at Amer Fort, Jaipur!
HELP: https://t.co/LRZVW5zoxJ#WorldElephantDay pic.twitter.com/VQW63BLYez

— PETA India (@PetaIndia) August 12, 2019
Earlier this year, after learning from PETA India that an elephant named Malti – also referred to as "No 44" – was recently subjected to abuse by her handlers in view of the public for the second time in less than two years while she was being used for rides at Amer Fort, Rajasthan Minister for Forest & Environment Shri Sukhram Vishnoi directed the state's chief wildlife warden to take strict and immediate action in order to ensure that she was rescued and rehabilitated.
More than 100 travel agencies – including global operators such as TripAdvisor, Cleartrip, The Travel Corporation, Intrepid Travel, smarTours, STA Travel, and TUI Group – have committed to not offering activities that exploit elephants.
You Can Help, Too!
Join PETA India in protecting one of the nation's most sacred animals by ending all elephant rides in the area immediately.