PETA India Demands Rescue After Beaten Elephant 'No 44' Goes Berserk Again at Amer Fort
After learning that handlers subjected an elephant named Malti, also known as "No 44", to abuse in full view of the public for the second time in less than two years – while she was being used for apparently illegal tourist rides at Amer Fort near Jaipur, Rajasthan – PETA India fired off a letter to Rajasthan Forest Minister Sh Sukhram Vishnoi demanding that she be rescued immediately.
Video footage shows that because Malti was fighting with another elephant – a sign of serious psychological distress – the handlers tried to use sticks to control both animals and shouted at them. Fortunately, the tourists riding them at the time were unharmed.
In the letter, PETA India points out that a group of American tourists witnessed eight men violently beating Malti with sticks for 10 minutes at Amer Fort in June 2017. Today, she's still being forced to give rides, despite her evident distress, putting human lives at risk. In view of the evidence that she's being subjected to violence, we're urging the Rajasthan Forest Department to seize her immediately and send her to a reputable sanctuary for rehabilitation.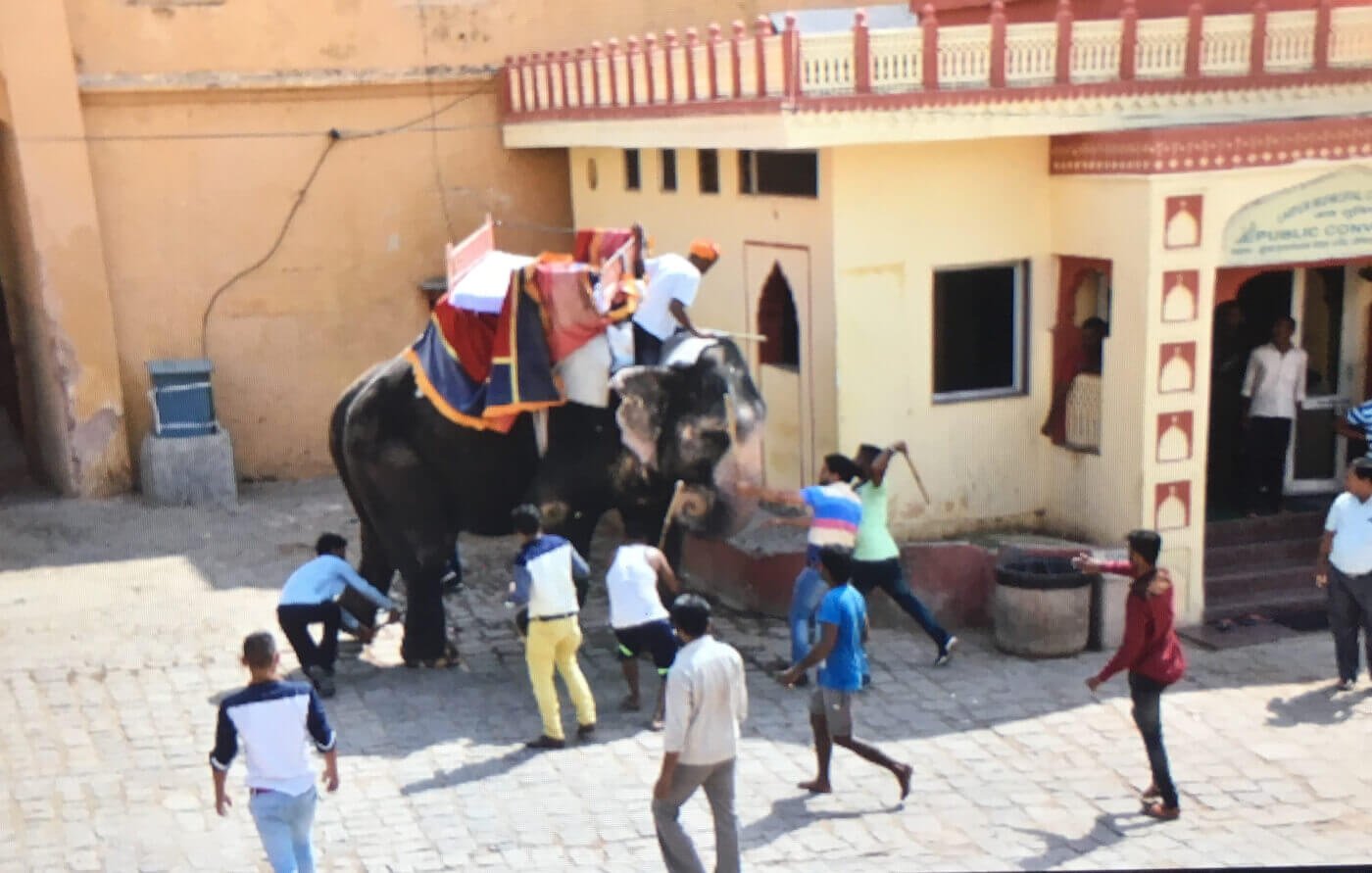 PETA India notes that the Animal Welfare Board of India's (AWBI) 2018 inspection report on captive elephants in Jaipur states, "Out of 100 cow elephants, elephant no 44 (ride no), by the name Malti was found to be extremely nervous and anxious and has the history of running amok in July 2017." It further notes that her ownership certificate is invalid and that her welfare is compromised, since her toenails are overgrown, cracked, deformed, and discoloured; the cuticles around her nails and in the interdigital space are overgrown, dry, and cracked; her foot pads are thin, uneven, and bruised; and her blood profile indicates eosinophilia (an increase in the number of eosinophils in the blood that occurs in response to some allergens, drugs, and parasites) and neutropenia (the presence of abnormally few neutrophils in the blood, leading to increased susceptibility to infection). The report also notes that she and her custodian don't fulfil the criteria for registration with the AWBI to give rides at Amer Fort or Hathigaon.
Virat Kohli and his wife, Anushka Sharma, have also condemned Malti's abuse and called for her to be rescued.
Elephant rides are extremely cruel, as they subject mighty yet sensitive individuals to a lifetime in captivity, physical abuse, and often inadequate food and veterinary care. You can help stop cruel elephant rides: