Dino Morea and Slidey in New PETA Ad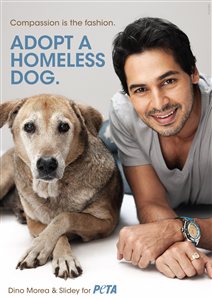 Let's face it: there's nothing sexier than a man who loves his dog. Especially if that man just happens to be Dino Morea! Recently, the oh-so-fine model-turned-actor and his beloved rescued dog, Slidey, posed for a new PETA ad alongside the caption "Compassion Is the Fashion. Adopt a Homeless Dog". The ad was shot by the leading photographer, Joy Dutta.
PETA, Morea and Slidey hope that the ad will encourage people to take in an animal from the streets or adopt an animal from a shelter instead of buying one from a breeder or pet shop. While breeders churn out millions of dogs and cats each year, countless equally deserving animals desperately wait behind bars in severely crowded animal shelters for someone to adopt them. Another 25 million homeless dogs face a daily struggle for survival on India's perilous streets. Many of them go hungry, are injured or killed in fights, are hit by vehicles or are abused by cruel people.
Just ask Slidey. The precious "poster pup" was rescued by Dino's mom and dad after his younger brother witnessed Slidey being attacked by a gang of kids on the streets of Bangalore. It's no wonder that Dino gets hot under the collar when it comes to animal abusers. "Once I saw this guy really trying to beat a dog. I got out of my car, and I stopped him", said the Pyaar Impossible! star. "Animals are beautiful; they're caring. There is no reason to be cruel to animals in any sort of way."