Delhi Students to Be Schooled in Kindness: Directorate of Education Supports PETA India Programme
After hearing from PETA India, the Delhi Directorate of Education has issued a new circular granting us permission to run our humane education programme, Compassionate Citizen, in Delhi government schools.
Compassionate Citizen was developed for students aged 8 to 12 and consists of a teacher's guide, reproducible activity sheets – including a colouring sheet and a kindness pledge that children can sign – a full-colour wall poster, an engaging 23-minute video, and an insert listing easy ways teachers and schools can encourage students to help animals. The digital option is easy for teachers to use with students who are learning online. The programme fits well into school curricula via language arts, science, social studies, and environmental and values-education subjects and can benefit animal rights and eco clubs.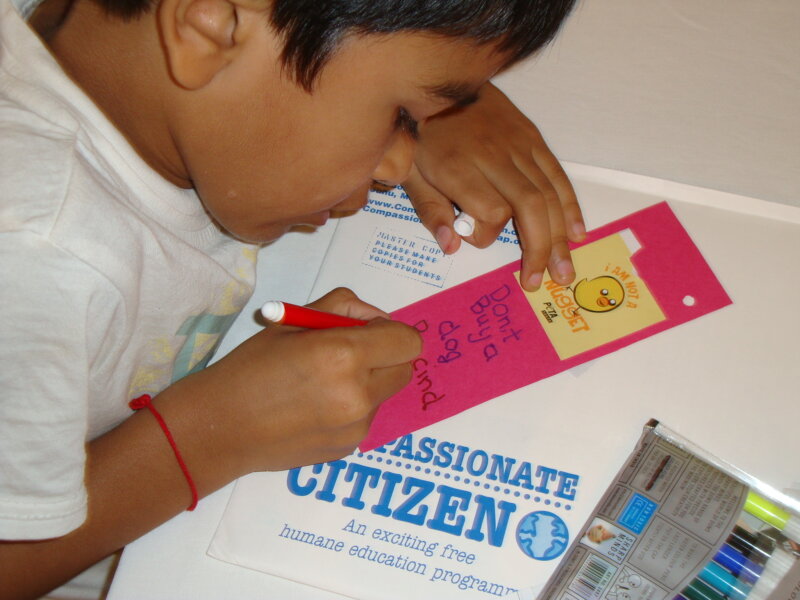 An earlier version of it was endorsed by the Animal Welfare Board of India, the Central Board of Secondary Education (CBSE), Kendriya Vidyalaya Sangathan (KVS), and the education ministries/departments of Andhra Pradesh, Chandigarh, Delhi, Goa, Gujarat, Kerala, Madhya Pradesh, and Telangana, while the revamped version (which includes worksheets that can be used digitally) has already been endorsed by the Directorate of School Education of Haryana. The programme has been used by over 1.9 lakh schools, including private, public, international, CBSE-affiliated, KVS, and government schools in the states and union territories mentioned above, reaching approximately 89.8 million children across India.
Teachers can download Compassionate Citizen educational materials, including a video, from PETA India's website. Free copies of these materials can also be requested by writing to PETA India at [email protected].
Order Your Free Compassionate Citizen Kit