Delhi High Court Rules on PETA India's Petition, Approves Home for Hippopotamus Rescued From Asiad Circus
On 15 April, the High Court of Delhi issued an order approving a new home for a hippopotamus rescued from Asiad Circus: a spacious facility in Jamnagar, Gujarat. This decision was based on a petition filed by PETA India and an inspection report submitted by the Animal Welfare Board of India (AWBI). Based on the pleas of PETA India, the court also directed that by 30 September, the central government will take action to frame rules that protect exotic animals who are currently not covered by the Wildlife (Protection) Act, 1972 (WPA).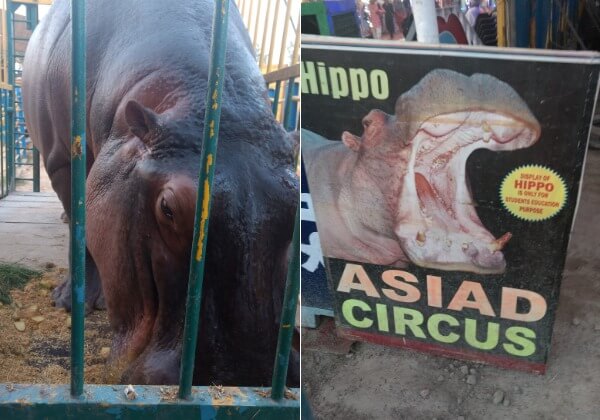 Following the order of the court on 17 February, a report was filed by the AWBI after it inspected the facility where the hippopotamus is now housed. The board expressed complete satisfaction with the mental and physical health of the animal, the housing conditions, and the environmental enrichment and nutrition being given to him. The AWBI also noted that he is in the company of a rescued female hippopotamus and is receiving expert veterinary care. It confirmed that the facility meets the Central Zoo Authority's (CZA) "Guidelines on Minimum Dimensions of Enclosures for Housing Exotic Animals of Different Species" and recommended that the facility be allowed to provide the hippopotamus with lifelong care.
PETA India filed a petition in 2018, requesting that the court order the seizure and rehabilitation of the hippopotamus from Asiad Circus, which was forcing him to endure a solitary life, confined to a small tank with concrete flooring and filthy water. We also requested that the court direct the Ministry of Environment, Forest and Climate Change to expand the CZA's purview to include all exotic wild animals – notably, hippopotamuses, birds, and others who aren't currently protected under the WPA.