Delhi Dubbed 'Most Vegan-Friendly City' of 2022 by PETA India
This World Vegan Month (November), PETA India has named Delhi the Most Vegan-Friendly City of 2022. As a token of appreciation for providing an environment in which animal-friendly establishments can thrive, PETA India has sent a certificate to Shri Gyanesh Bharti, IAS, commissioner of the Municipal Corporation of Delhi.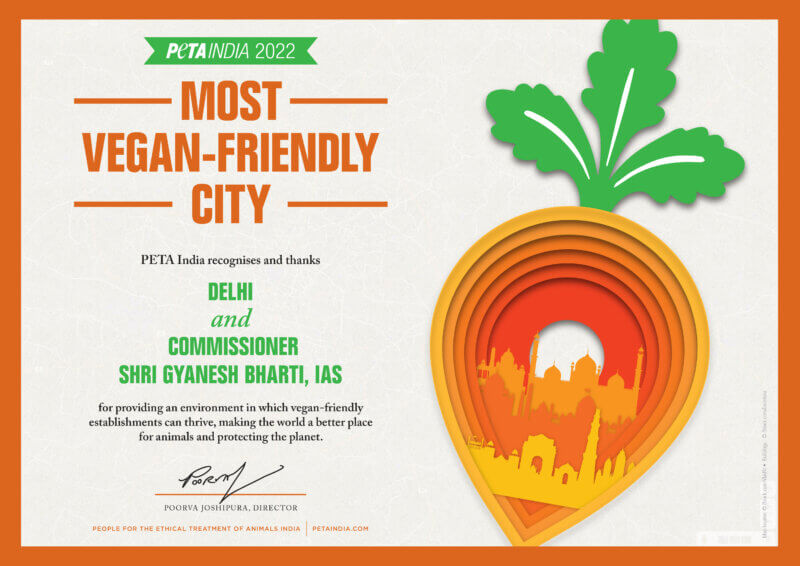 The city's top vegan eateries include People of Tomorrow, where diners can fill up on delicious dessert after rounds of tapas, and Bakeart, a bakery offering everything from Western-style Bundt cakes and brownies to traditional favourites like besan burfi and fruit laddoos. Vegan-friendly spots include Roadhouse Cafe, which offers a vegan menu of paninis, calzones, and more; Burma Burma, which serves up Burmese classics like steamed buns and grilled sticky rice; Greenr Cafe, where diners can lunch on dairy-free pizzas and risotto inside a greenhouse; Rose Cafe, whose vegan menu pairs perfectly with the eatery's dollhouse décor; and Green Mantis, which has East-Asian delights and more. Many Delhi establishments also serve the inexpensive and delicious vegan meat soya chaap.
PETA India notes that Delhi's vegan impact doesn't stop at dining: the city has a vegan social media group that boasts thousands of members as well as many shops that carry cruelty-free clothing and cosmetics. Among these are Aulive, a proudly leather-free brand whose accessories are made from pineapple and other plants, and Klome, which offers all-natural vegan cosmetics made in India.
By going vegan, each person can spare the lives of up to nearly 200 animals every year and help combat speciesism, the belief used to defend treating other animals like research tools, food ingredients, clothing, or playthings. Not only does this human-supremacist mentality contribute to the deaths of billions of animals, it also accelerates the climate catastrophe and the emergence of zoonotic diseases.