Cricketer Pragyan Ojha Says NO to Zoos
Mumbai Indians bowler Pragyan Ojha is a star, including for animals. In his new PETA ad shot by top photographer YSN Murthy, Pragyan relates to animals' misery in zoos and asks fans to do the same. Pragyan's "caged tiger" hair and make-up were styled by Mask Raju. His bodypaint was done by Sravankumar.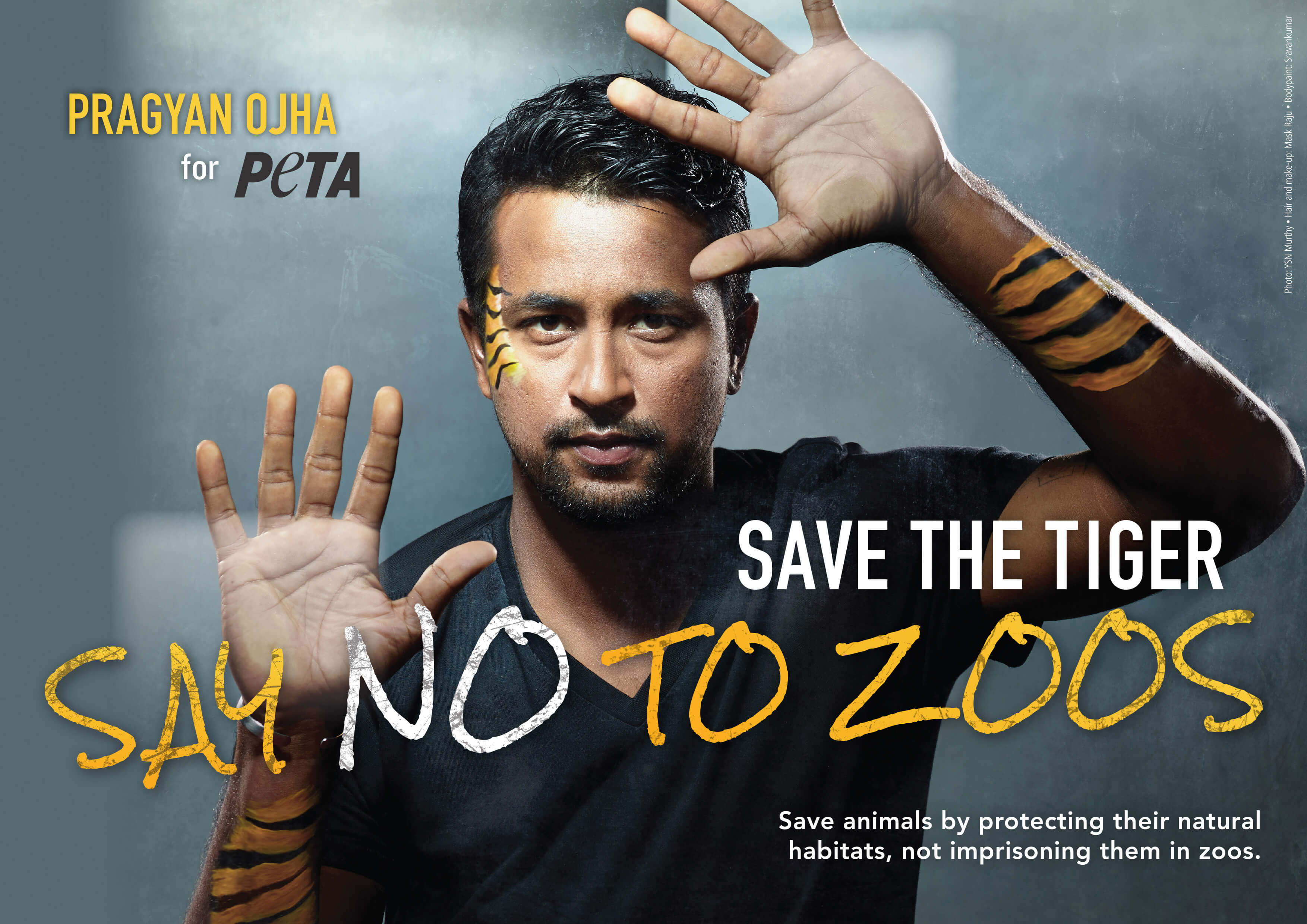 "Animals are like prisoners in the zoo. They have limited place to move around. They are not comfortable. They are just cramped up, which is not natural", Pragyan says. The ace spinner, who has also protested zoos in the past, urges fans to "[t]hink about the animals who actually belong in the wild and are locked up forever in zoos".
Animals kept in zoos live in concrete and iron cages, often without even a blade of grass. Many animals in zoos exhibit neurotic and abnormal behaviour, such as head-bobbing, incessant pacing, extreme agitation and even self-mutilation. Animals who are sick or have injuries are often denied veterinary care. Without adequate supervision, some visitors taunt animals and throw debris into their cages. Pragyan, an Indian Premier League Purple Cap winner, knows that the most significant action that you can take to help animals trapped in zoos is to stop patronising the facilities. If their financial support disappears, zoos will be forced to shut down.
Pragyan joins a growing list of athletes and other celebrities – including cricketer Wayne Parnell, badminton champion Jwala Gutta,sitar player Anoushka Shankar and actors Celina Jaitly and Rahul Khanna – who have teamed up with PETA to speak out against the cruelty of zoos. If you want to help animals in zoos, share this video with your friends and family and urge them to say no to zoos.