Celina Jaitly Caged … to Help Animals in Zoos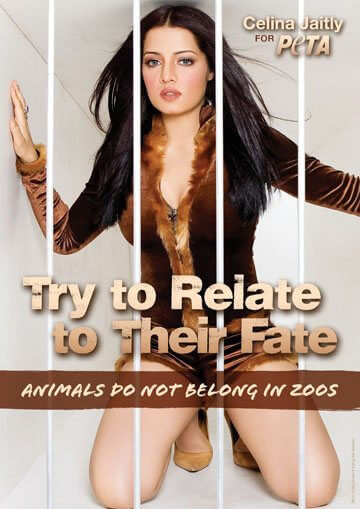 She's hot! But zoos are not. Proving both of these points, the always captivating Celina Jaitly appears in a sexy new PETA India ad aimed at drawing attention to the suffering of wild animals forced to live in captivity. In the ad, the Bollywood star wears an alluring animal-inspired outfit designed by Joe Mansoori while crouched in a cage next to the caption "Try to Relate to Their Fate. Animals Do Not Belong in Zoos". The ad was shot by ace photographer Vickky Idnaani.
The sizzling actor – who starred in the hit Kannada film Srimathi as well as the Hindi film Thank You – knows that animals in zoos have nothing to be thankful for. Numerous PETA investigations have revealed horrific conditions in zoos across India.
Animals treasure freedom as much as we do, yet in zoos, they are denied everything that is natural and important to them. An Oxford University study found that animals such as polar bears, lions, tigers and cheetahs "show the most evidence of stress and/or psychological dysfunction in captivity". This frustrating, often isolated existence inside barren, often filthy enclosures destroys animals' spirits and can lead to obsessive, repetitive, self-destructive behavior and even death.
This isn't the first time that Celina has teamed up with PETA to help animals. Striking a provocative pose to help elephants, she also urged zoo and government officials to relocate a pair of pachyderms suffering at the Mumbai Zoo to a sanctuary.
Help Celina change the fates of captive animals.
Pledge to Boycott Zoos
I have learned about how animals in zoos suffer when forced to spend their entire lives in cramped, unnatural enclosures, where they are denied everything that is natural and important to them.
I hereby pledge that I won't patronise any zoos.
यहां साईनअप करके व अपना संपर्क विवरण देकर आप यह स्वीकार करते हैं कि आपने हमारी प्राइवेसी पॉलिसी को पढ़ा है वह आप उस से सहमत हैं।