Broke Mate Vegan Leather Bag Contest
This contest is closed.

The winner of the contest is Anuradha Kalia.
---
Broke Mate's flawless bag designs are the definition of fashion-forward – they're all vegan leather and ooze style. The brand's core values show that it's committed to promoting the safe and ethical treatment of animals and showing shoppers how to be fashion-forward without the deadly price tag. And the company is succeeding – one look at its backpacks, totes, and handbags, and you'll be hooked. The brand is so excited to celebrate the reign of vegan fashion that it's giving one of its vegan leather Criss x Cross shoulder bags to the randomly selected of PETA India's Broke Mate vegan leather bag contest!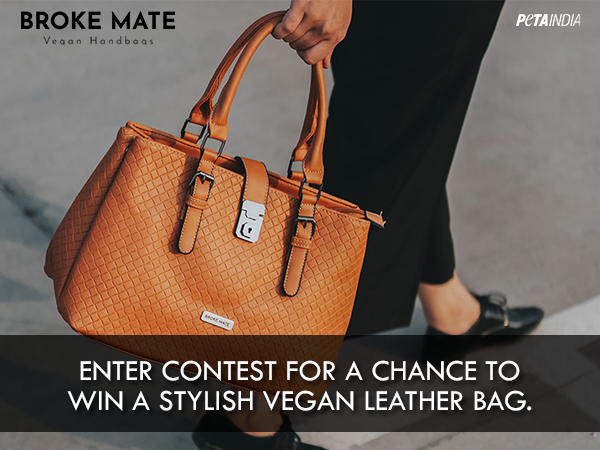 Submit your entry using the form below.
Designing with vegan leather instead of animals' skins saves lives and protects the environment. The global leather industry kills 290 million each year, and the dairy and beef industries supply them. Look chic while taking a stand against unethical, destructive leather with some vegan arm candy from Broke Mate. Enter to win a fashion-forward, premium-quality vegan leather bag today!
Good luck, and keep promoting vegan leather!
This contest is for residents of India only. The call for entries closes on 14th February, and the winners will be announced by 15th February.
 Are you a US resident? PETA US will show you some love by hooking you up with lots of other cool contests!