Akhil Kapur Proves That Vegetarians Are Fit
Bollywood actor Akhil Kapur shows off his jaw-dropping physique in a sexy pro-vegetarian ad for PETA.
Desi Kattey star Akhil Kapur knows how to make a memorable debut. To show fans that going vegetarian does a body—and animals—good, Akhil showed off his traffic-stopping physique in a brand-new ad for PETA. Top Bollywood photographer Haider Khan shot the chiselled actor's steamy ad. Pradeep Pandey styled Akhil's jungle hair and makeup look. Rehan Shah was the stylist.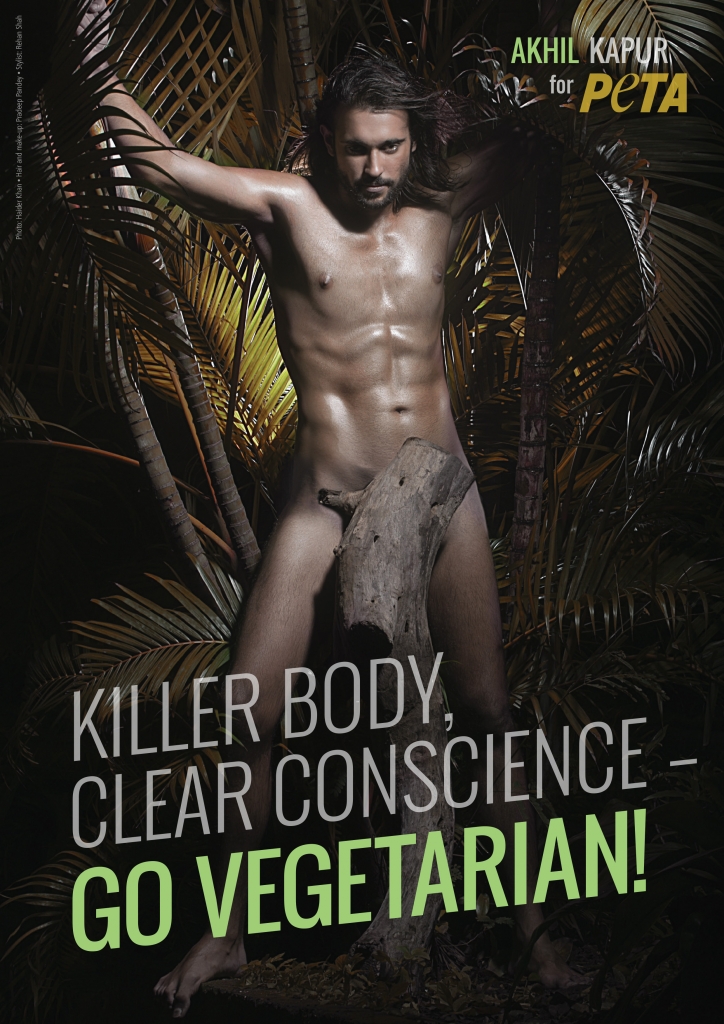 When the dog lover and upcoming actor isn't busy tweeting about animal rights, he's hitting the gym with the same intensity that he displays for each performance. The fit filmi keeps his body fuelled on fruits, legumes and vegetables that are loaded with all the vitamins, minerals and essential nutrients his body needs, without all the cholesterol, saturated fat and contaminants found in meat.
"A vegetarian diet benefits you because it has a lot of nutrients. Your body requires a lot of nutrients – green nutrients, healthy nutrients, such as good fibres. It helps your skin. It helps enhance your hair", says Akhil. "Go green, be clean and you will be healthy as well."
Akhil knows that being vegetarian is great for your health, reducing your risk of diabetes, cancer, strokes and heart disease. Researchers have found that vegetarians are 50 per cent less likely to develop heart disease, so going meat-free was a no-brainer for health-conscious Akhil. In 2012, 1 million Indians died from diabetes, and 35 per cent of all Indian deaths are caused by cardiovascular disease. No wonder vegetarians live longer!
"People who are vegetarian also tend to live longer. There are studies where vegetarians live 10 years longer than non-vegetarians because their bodies are healthier and cleaner", says Akhil.
Going vegetarian is also good for the environment. Raising animals for food causes water pollution, greenhouse-gas emissions and deforestation, and it's extremely wasteful. It takes up to 10 kilograms of grain and nearly 21,000 litres of water to produce just 1 kilogram of meat. A staggering 60 per cent of the world's grain supply is fed to farmed animals. Meanwhile, 925 million people do not have enough to eat.
You can get fit by ditching meat, as Akhil has. Get started by ordering a free vegetarian/vegan starter kit from PETA, complete with nutrition information, how-to-transition tips and tasty recipes. Watch "Glass Walls" with your friends and family to learn more about how your decision to avoid eating meat benefits everyone.