Protein-Rich, Cruelty-Free Recipes From Nutrela!
You've probably heard us gushing about Nutrela's soya nuggets, but don't just take our word for it – taste them for yourself!
Unlike animal flesh, vegan meaty dishes are low in saturated fat, free of cholesterol and high in healthy plant protein and fibre. Eating plant-based foods helps prevent obesity, heart disease, cancer, diabetes and strokes. It's also easier on the and saves animals' lives.
These two delicious dishes will give you your daily dose of protein and have you salivating over the stove:
 Nutrela Soya Chilli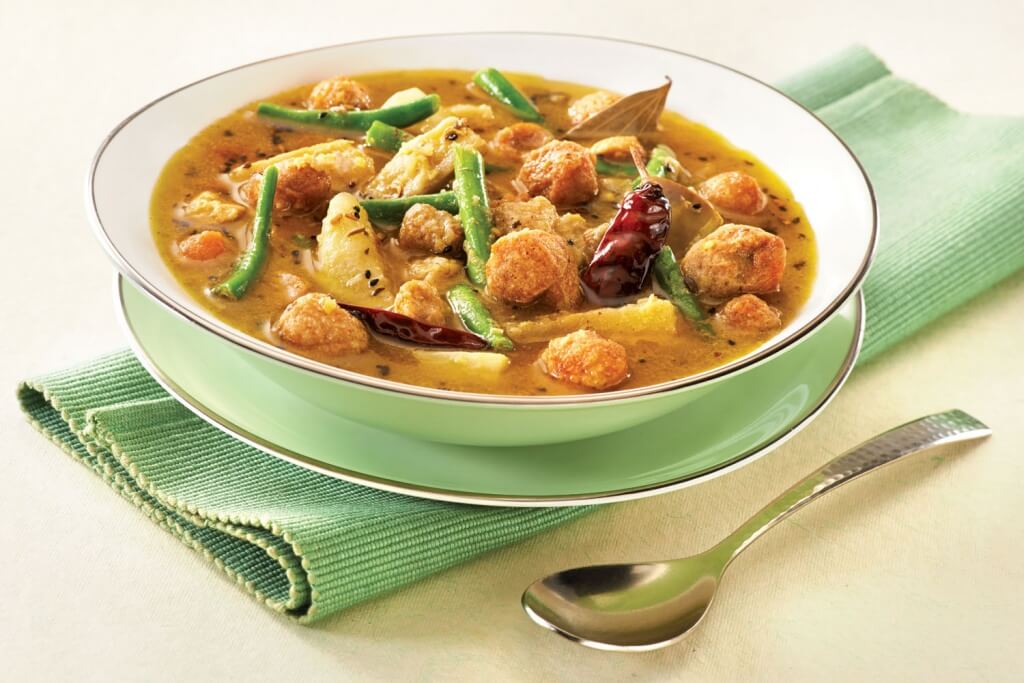 2 Tbsp soya sauce
2 Tbsp cornflour or cornstarch
Salt, to taste
1/2 cup Nutrela Soya Chunks
1 Tbsp oil + more for deep-frying
1 tsp garlic paste
5–6 green chillies, chopped
2 1/2 cups water
1 tsp sugar
1/2 tsp white pepper
2 green onions, chopped
Combine 1 tablespoonful of soya sauce, 1 tablespoonful of cornflour and the salt in a small bowl. Add the soya chunks and marinate for 10 to 15 minutes.
Deep-fry the marinated soya chunks in oil until golden brown.
Heat 1 tablespoonful of oil in a pan on medium heat and add the garlic paste and green chillies. Cook for a few seconds, then add 2 cups water and bring to a boil. Add the sugar, white pepper and remaining soya sauce and season with salt. Add the fried soya chunks and stir.
Dissolve the remaining cornflour in 1/2 cup water and add to the mixture, stirring constantly to avoid lumps. Cook for 5 more minutes.
Garnish with the green onions and serve.
Makes 3 servings
 Nutrela Soya Rajma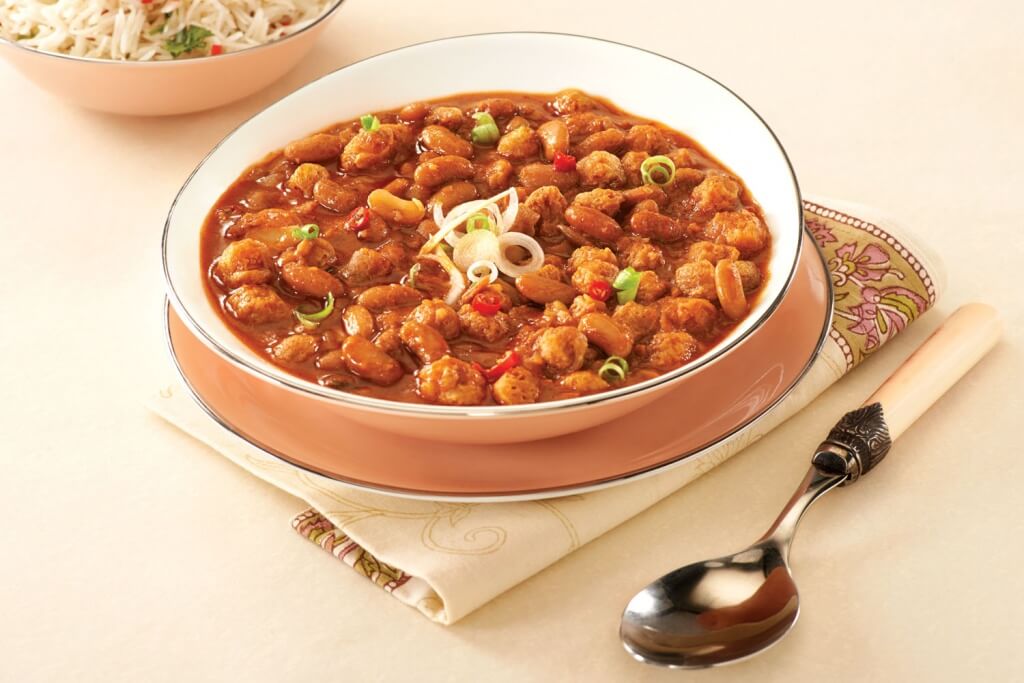 3 Tbsp oil
1 tsp cumin seeds
1 Tbsp coriander seeds
1 tsp black peppercorns, crushed
3 green chillies, chopped
2 medium onions, chopped
2 Tbsp ginger-garlic paste
3/4 cup tomato purée
1 tsp red chilli powder
1/4 tsp turmeric
1 tsp amchur
1 tsp garam masala
1 cup cooked red kidney beans
4 cups Nutrela Soya Mini Chunks, soaked and drained
Salt, to taste
1 1/2 cups water
1-inch piece ginger, cut into thin strips
Heat the oil in a non-stick k on medium heat. Add the cumin seeds, coriander seeds, black peppercorns, green chillies and onions. Sauté for 2 minutes.
Add the ginger-garlic paste and tomato purée. Cook for 5 minutes.
Add the red chilli powder, turmeric, amchur and 1/2 teaspoonful of garam masala. Cook for 2 more minutes.
Add the kidney beans, soya chunks and salt and mix well.
Add the water and slightly mash the mixture with a spoon. Continue cooking for 5 more minutes.
Add the ginger and remaining garam masala powder and mix well.
Transfer to a serving bowl and serve hot.
 Makes 5 servings