Victory! AP Bans Manja, Sharp Kite-Flying Strings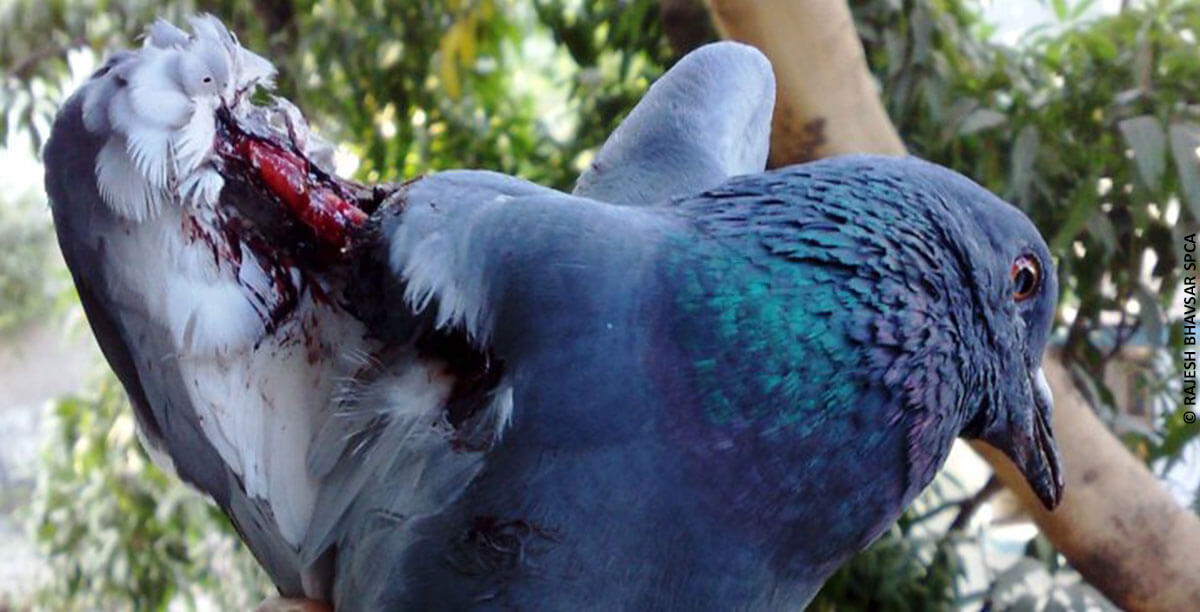 PETA India has just received a copy of an order issued by the government of Andhra Pradesh which bans deadly manja during Makar Sankranti and other occasions in the state. The order follows letters sent by PETA India to the Honourable Chief Minister, the Environment Minister and the Chief Secretary of Andhra Pradesh calling for a ban. In the letters, PETA India pointed out that manja kills thousands of birds every year, including those who are endangered and also kills or injures numerous children and other people.
Taking into account the severe damage caused by manja to humans, birds and infrastructure, many states and district administrations in India have already banned or restricted the sale and use of manja – including Maharashtra, Gujarat, Telangana, Uttar Pradesh, Chennai, Amritsar, South West Delhi and the Gandhi Nagar subdivision of East Delhi. The Ministry of Environment, Forest and Climate Change has also issued an advisory urging the state governments to address the manja menace, and the Animal Welfare Board of India has written to all states and union territories encouraging them to ban manja.
According to estimates, more than 300 birds were injured in Hyderabad in 2015 during Makar Sankranti, and more than 100 were killed. A bird rescuer in Ahmedabad estimates that 2,000 birds – including pigeons, kites and vultures – are injured every year during the city's Uttarayan festival and that 500 of them die from their injuries.
Manja poses a great threat to people, too, especially children and young people. In 2015, a man in Hyderabad died after his throat had been slit by sharp manja while he was riding his two-wheeler. In December 2014, a 2-year-old boy in Jaipur received 22 stitches after sharp manja cut his face and neck so severely that doctors struggled to save his life. January 2014, a 5-year-old girl died after being cut by manja in Jaipur, and a boy in Varanasi, the only son of a poor mason, was killed when his throat was slit by manja in December 2013. In January 2014, in Ahmedabad alone, eight people died and almost 1,500 were injured because of manja. In January 2014, a 26-year-old biker was killed in Nagpur. These are only a few examples of its detrimental impact.
Manja has also caused expensive blackouts and even resulted in human electrocution. According to Delhi power company BSES, a single incident involving a kite near an electrical establishment can affect up to 10,000 customers. Several top power companies, such as Reliance Power and Tata Power, have issued many advisories urging people not to fly kites near electrical lines or establishments.
You Can Help
Ask for a countrywide ban on lethal manja.