Vegan Vidyut Jammwal Stars in a PETA India Campaign for National Nutrition Week
He left the audience in awe with his exceptional high-octane action stunts in the 2017 hit film Commando 2, and now, Vidyut Jammwal is showing off his chiselled body, which he attributes to his vegan lifestyle and workout routine, in a hot new ad for PETA India during National Nutrition Week, in which he appears next to the words "Kick the Meat Habit. Go Vegan." Vegans are vegetarians who eat only fully plant-derived foods (leaving those derived from animals – such as milk and eggs, which are stolen from exploited cows and chickens, respectively – off their plates). The stunning ad was shot by ace photographer Haider Khan.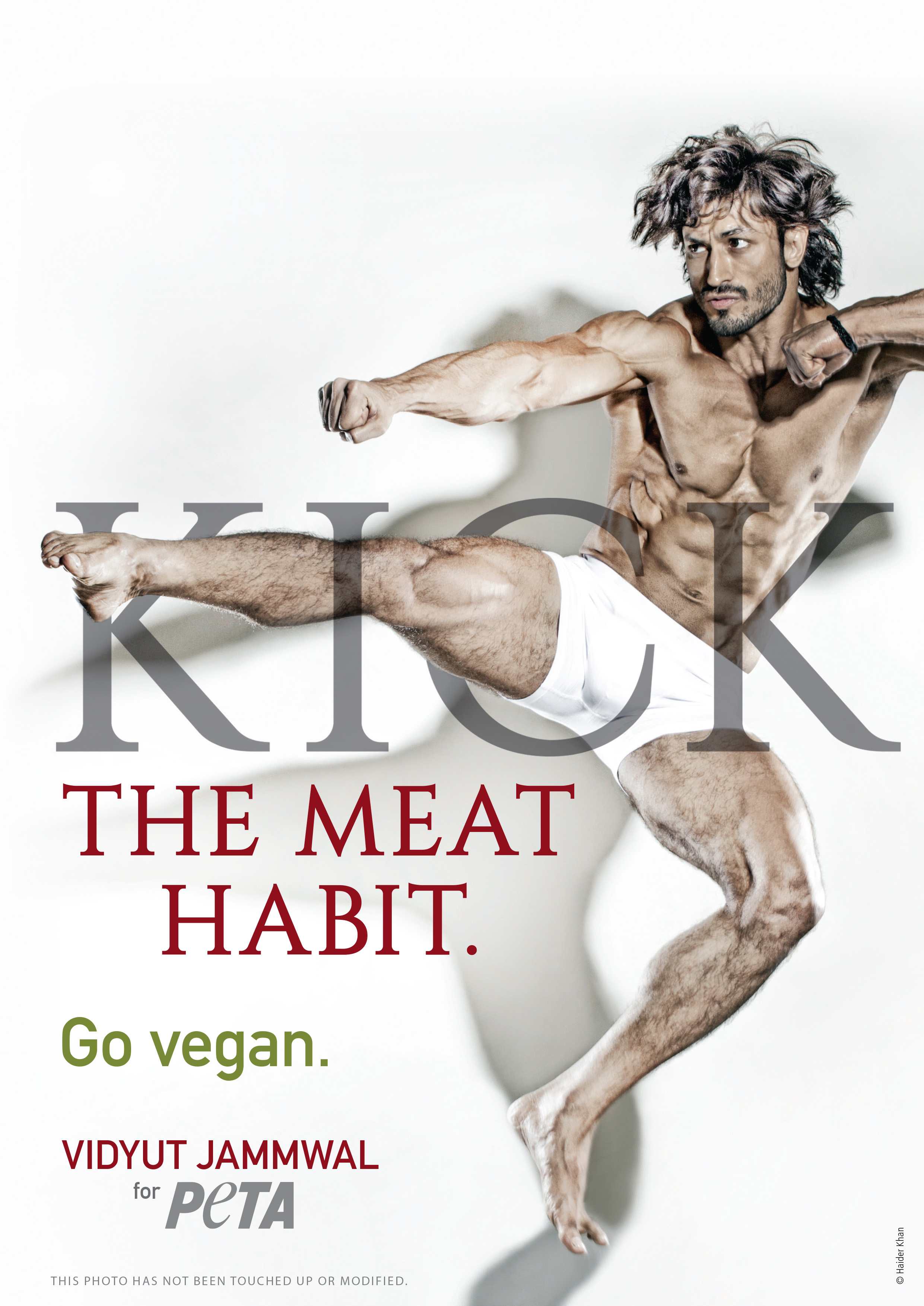 "When people ask me where I get my protein from, I tell them [I get it from] exactly [the same place that] herbivorous animals like elephants, horses, and rhinos do: plants," says Vidyut. "Being vegan helps me keep fit. I love the way I feel."
PETA India's video exposé "Glass Walls" reveals that most chickens used for their eggs are confined to a space that's smaller than an A4 sheet of paper and that parts of their beaks are cut off with a hot blade to prevent them from pecking at each other out of frustration. Once their bodies wear out and they're no longer considered useful for egg production, they're sent to the slaughterhouse, where they're killed in full view of their companions. Video footage from inside several Indian hatcheries reveals that male and other unwanted chicks are commonly killed by being ground up, drowned, burned, crushed, suffocated, or even fed to fish while still alive by the egg and meat industries.
In addition to sparing the lives of many animals each year, people who eat vegan reduce their risk of suffering from heart disease, diabetes, cancer, and obesity. And because of the disastrous environmental effects of the meat, egg, and dairy industries, the United Nations has concluded that a global shift towards vegan eating is necessary to combat the worst effects of climate change. Vidyut joins a growing list of vegan celebrities – including Kangana Ranaut, Sonam Kapoor, Joaquin Phoenix, Pamela Anderson, Jacqueline Fernandez, Mallika Sherawat, Ayesha Takia, Monica Dogra, and Bryan Adams, to name just a few.
Inspired? Well, what are you waiting for?! Get a FREE vegan starter kit today and kick-start your healthy lifestyle now.