Supreme Court Stays Government Notification: Jallikattu, Bull Races Cannot Be Conducted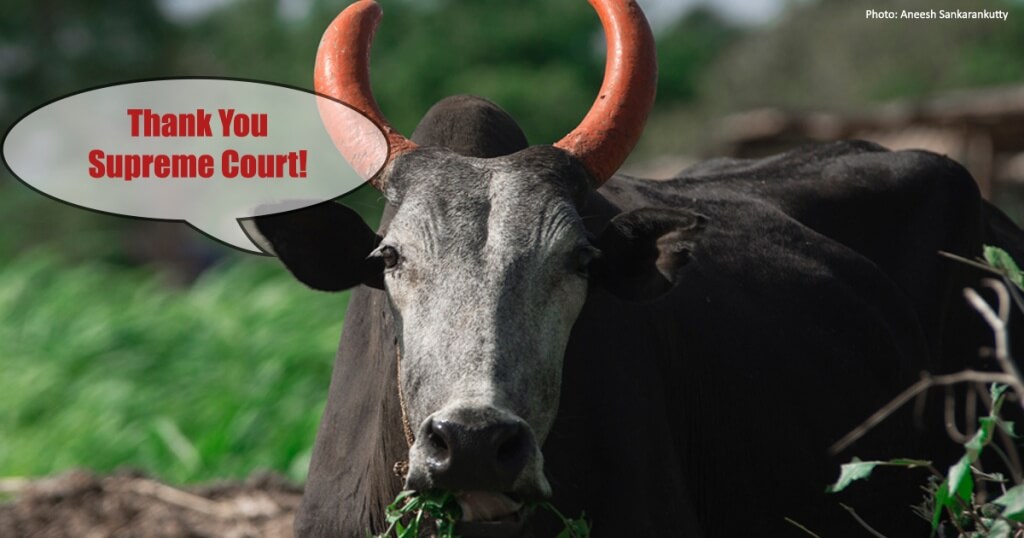 Today, the Honourable Supreme Court of India stayed the Ministry of Environment, Forest and Climate Change (MoEFCC) 7th January 2016 Gazette of India notification permitting events such as jallikattu and bull races despite a Supreme Court judgement that categorically held that such events cannot be allowed. This means events such as jallikattu and bull races cannot currently be held.
The progress comes in response to a battery of urgent petitions filed with the court led by the government advisory body the Animal Welfare Board of India (AWBI) and supported by PETA India, the Federation of Indian Animal Protection Organisations (FIAPO) and Compassion Unlimited Plus Action (CUPA) against the 7 January 2016 notification. Further, individuals Sowmya Reddy, Radha Rajan and Gauri Maulekhi filed petitions against this notification, with two of them being contempt petitions. All of these petitions call for the court to strike down the 7 January 2016 notification permitting the use of bulls in events such as jallikattu in Tamil Nadu and bullock cart races elsewhere in the country.
In 2014, the Supreme Court had ruled that cruelty is inherent in these events, as bulls are not anatomically suited for such activities. Making them participate subjects them to unnecessary pain and suffering, so such events were outlawed. The court also stated that when culture and tradition are at variance with the law enacted by Parliament, the law would take precedence.
PETA India has documented in AWBI-authorised inspections that during jallikattu events, terrified bulls are often deliberately disoriented by being given substances like alcohol; have their tails twisted and bitten; are stabbed and jabbed by sickles, spears, knives or sticks; and are punched, jumped on and dragged to the ground. Three bulls even died during jallikattu events in 2014. During races, bulls are often hit with nail-studded sticks and pushed beyond the point of exhaustion. In bullfights, which often occur in Goa, a round ends when one of the bulls manages to flee – or is killed.
Also, hundreds of human participants were injured each year when jallikattu was permitted, and many were killed. Between just 2010 and 2014, approximately 1,100 injuries to humans were reported by the media as a result of cruel and dangerous jallikattu-type events, and 17 people died – including a child. Since these figures were taken only from media reports currently available online, the actual figure is likely higher. Many human injuries also go unreported.
The petitioners are represented by senior advocates Aryama Sundaram (AWBI), Anand Grover (PETA), KK Venugopal (FIAPO), Siddharth Luthra (CUPA), Mr Venkatramani (Sowmya Reddy and Radha Rajan) and Dushyant Dave (Gauri Maulekhi, trustee, People for Animals).
You Can Help Bulls
Urge the Centre to withdraw the notification allowing events such as jallikattu and bull races.