Raveena Celebrates International Homeless Animals' Day – Adopts Stray Pups
When Raveena Tandon-Thadani heard from her pals at PETA India about the puppies who had been found struggling in monsoon rains – including seven stray pups found by actor Madhuri Dixit, her husband Dr Shriram Nene and director Saahil Chhabria on the set of Jhalak Dikhhla Jaa as well as stray pups found by Marathi film actor Resham Tipnis at Film City – she immediately decided to help by contacting PETA to adopt two puppies. The actor also shares her home with two other Indian community dogs rescued from the streets and one dog adopted from an animal shelter.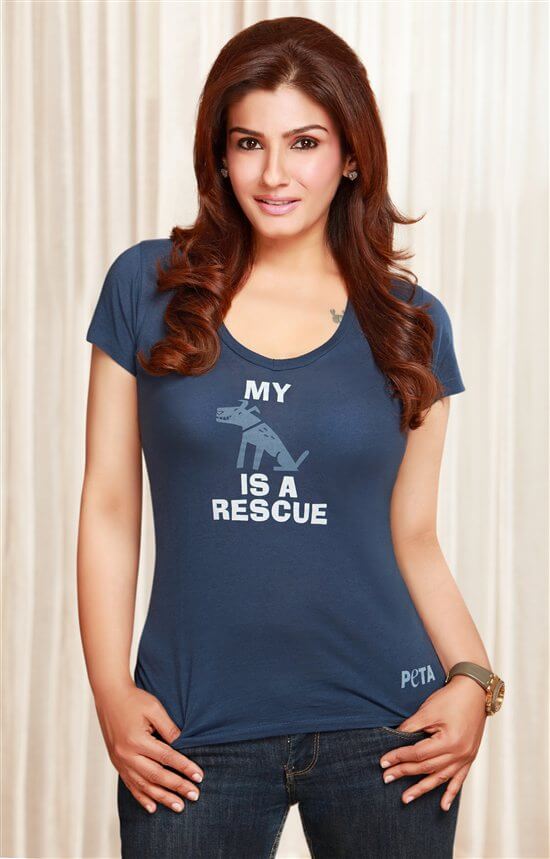 "It's hard to describe the joy of taking a dog struggling to survive in the streets and giving him or her a loving home and a second chance at life", says Raveena, who has often worked with PETA to speak out in behalf of abused and neglected animals. "I urge everyone who has the time, space and resources to adopt an Indian community dog and see for themselves the unconditional love they'll receive from a very grateful animal."
Raveena and PETA agree: always adopt, never buy. Every time someone buys a dog from a breeder or a pet shop, a dog on the streets or in an animal shelter loses his or her chance at finding a good home. What's more, "pedigree" dogs have been purposefully bred for certain exaggerated physical traits, making them susceptible to abnormally high rates of health problems, including hip dysplasia, heart defects, epilepsy and eye and ear infections. Indian community dogs are hardy and resilient and not predisposed to health problems.
This isn't the first time that Raveena has teamed up with PETA to help animals. Among her other contributions, she dressed in a snake print (not snakeskin) gown for a PETA ad that read, "Wearing Exotic Skins Kills – Leave Wildlife out of Your Wardrobe".
Important note: more puppies rescued from the monsoon rains are available for adoption from PETA and other animal-protection groups. Interested persons are encouraged to contact PETA at [email protected].