It Was Raining Cats and Dogs in Delhi
Have you ever thought: What if the right to peacefully assemble were granted to animals and they could organize a protest to demand better laws for their treatment?
Well, we did. This is why we organized a never-before-attempted demonstration outside the iconic Ramlila Maidan in Delhi where dozens of PETA volunteers wearing cat, dog, goat, cow and other animal masks held placards urging the government to pass the Animal Welfare Act (AWA) 2011.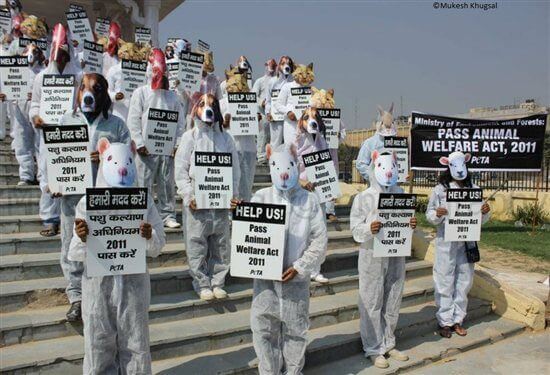 Why is the AWA 2011 so important?
Simply because it has the potential to make the lives of animals in India a lot better. Penalties for cruelty under the current animal protection law – the 5-decades-old Prevention of Cruelty to Animals Act, 1960 – are woefully weak and do little to deter animal abusers.
"A 10-rupee fine won't stop abusers from overloading a bullock cart or beating a homeless dog", says PETA India campaign coordinator Himani Shetty. "While the government keeps the new law on the back burner, animals are suffering and dying and their abusers are getting away with murder. The new Animal Welfare Act has the teeth that it needs to take a bite out of cruelty."
While this protest helped us to get the word out, we still need more support. Please write to the Ministry of Environment and Forests to urge it to pass the act. Take action here!