Pune Police Registers FIR Over Dog's Fractured Leg; PETA India Offers Rs 50,000 Reward to Nab Perpetrator(s)
After learning that a community dog was attacked and his leg fractured by one or more unknown assailants on the campus of FLAME University in Pune, PETA India worked with a concerned resident to file a formal complaint with Paud police station and is offering a Rs 50,000 reward to anyone who provides information leading to the arrest and conviction of the person(s) responsible. A first information report has been registered under Section 429 of the Indian Penal Code, 1860, and Section 11(1)(a) and (l) of The Prevention of Cruelty to Animals Act, 1960, by Paud police. The dog was hospitalised and has undergone surgery for the fracture. Reports from two veterinarians confirm that the fracture appears to be a result of trauma from a hard, sharp object or forceful impact.
PETA India and Paud police are urging anyone with information about the perpetrator(s) to contact PETA India's animal emergency helpline on 9820122602 or at [email protected]. Informants' identities will be kept confidential upon request.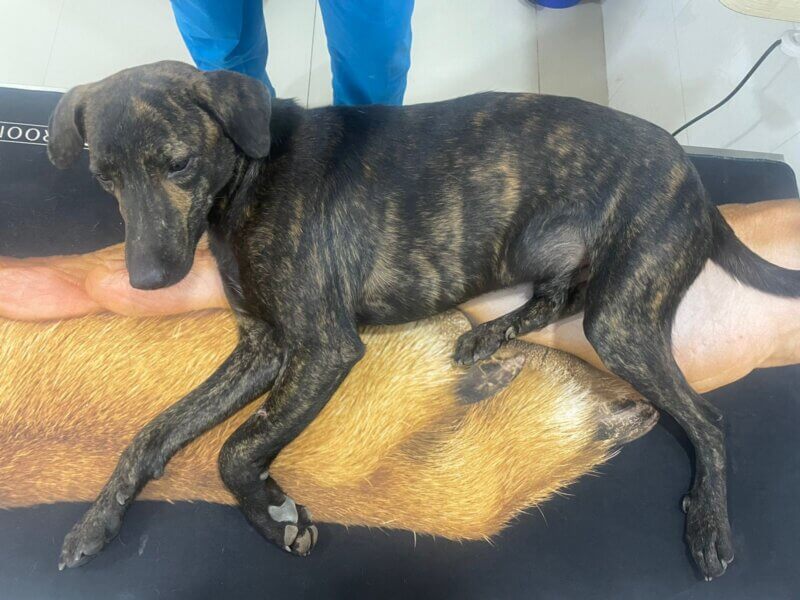 Earlier, seven community dogs were allegedly removed from the same campus, and two of them were found about 12 to 18 kilometres away. At that time, PETA India issued a letter to the university urging it to protect dogs on its campus. The remaining dogs are still missing.
We recommend that the perpetrators of crimes against animals undergo psychiatric evaluation and receive counselling, as abusing animals indicates deep psychological disturbance. Research shows that people who commit acts of cruelty to animals are often repeat offenders who move on to hurting other animals, including humans. For example, Ameerul Islam, sentenced for raping and murdering a Kerala law student, had a history of raping and killing dogs and goats. A study published in the Journal of Emotional Abuse found that 71% of abused women who sought shelter at a safe home and who had companion animals confirmed that their partner had threatened, injured, or killed the animals.