Priyanka Shah Sports 'Race-y' T-Shirt During Mumbai Marathon
In a spectacle that turned thousands of heads, model, actor and former Miss India Priyanka Shah was spotted at the Mumbai marathon last weekend sporting a special t-shirt in support of PETA India. The tall, sultry beauty queen, who describes herself as a physical fitness fiend, attributes part of her great form and stamina to her healthy vegetarian diet. Priyanka was accompanied by Clucky, PETA's mascot "chicken". "I love animals and am a vegetarian", says Priyanka, who is the proud rescue "mummy" of two beloved animals. "I have adopted an Indian dog off a Pune street and a cat, from Carter Road here in Mumbai."
Besides causing animal suffering on a massive scale, eating animals is bad for your health and the environment.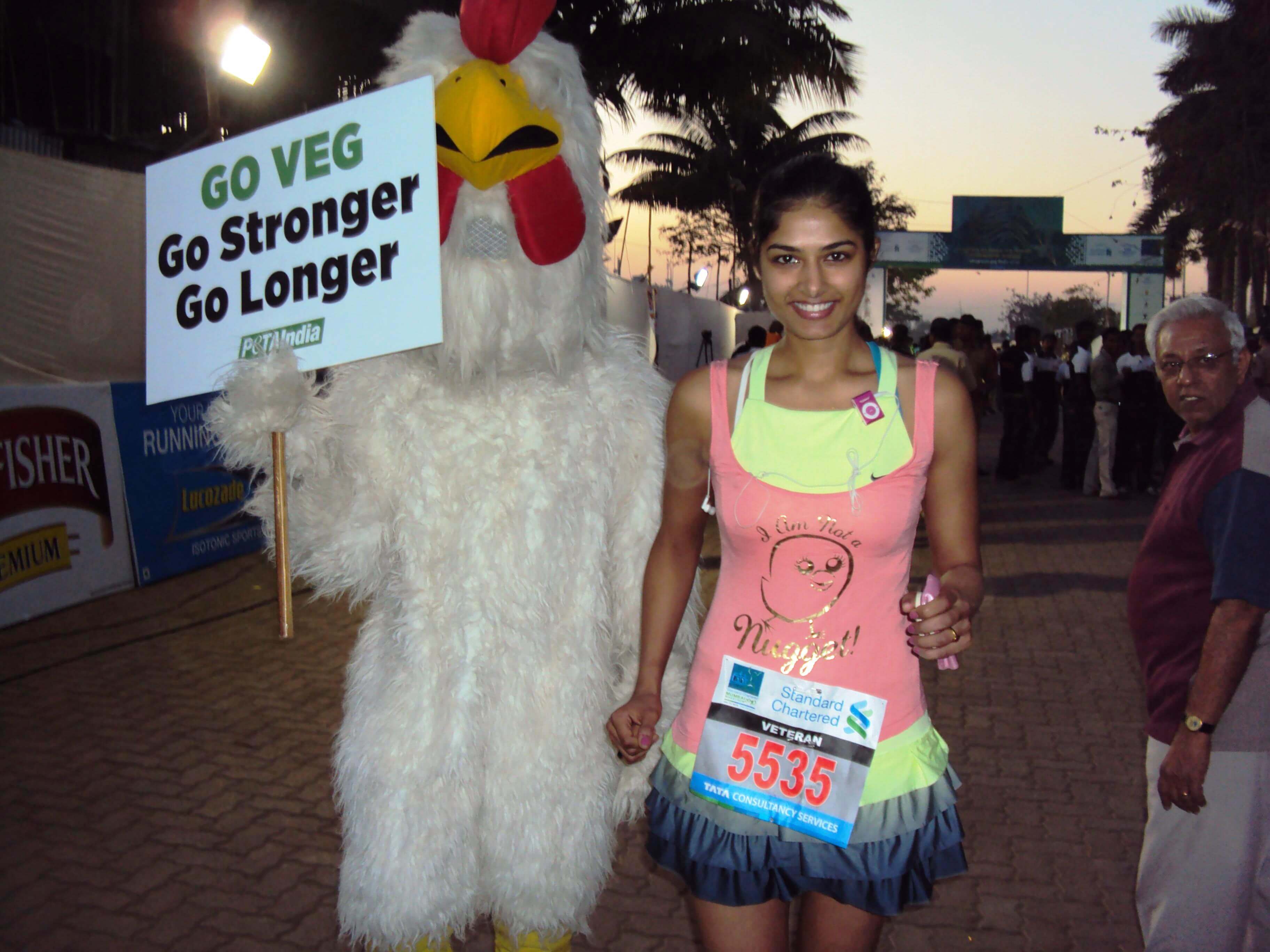 The consumption of meat and other animal-derived products has been conclusively linked to strokes, heart disease, diabetes, obesity and certain types of cancer. Plus, a recent UN report concluded that raising animals for food produces more of the greenhouse-gas emissions responsible for climate change than all the cars, trucks, trains, ships and planes in the world combined.
Priyanka isn't the only vegetarian athlete! Fauja Singh, Carl Lewis, Rich Roll, Kirsty Wade, Sally Rose Eastall and Dave Scott all choose vegetarian diets. We can't think of a better advertisement for the many benefits of going vegetarian than Priyanka at the finish line of that gruelling 21 km marathon!
Want to join Priyanka in keeping fit and slim? Take PETA's pledge to be veg. Send this e-card to your friends to encourage them to make this positive change in their lives too!