Pooja Bhatt's Fish Eye Network Wins PETA India Award for Pledging Never to Use Animals in Films
In response to an appeal from PETA India, Fish Eye Network Director Pooja Bhatt has made history by becoming the first film director in the country to pledge never to use live animals in the company's films. PETA India's appeal asked that superior technology, such as animatronics, CGI (computer-generated imagery), and visual effects, be used instead of live animals. PETA India has sent Fish Eye Network a Compassionate Film Production Company Award.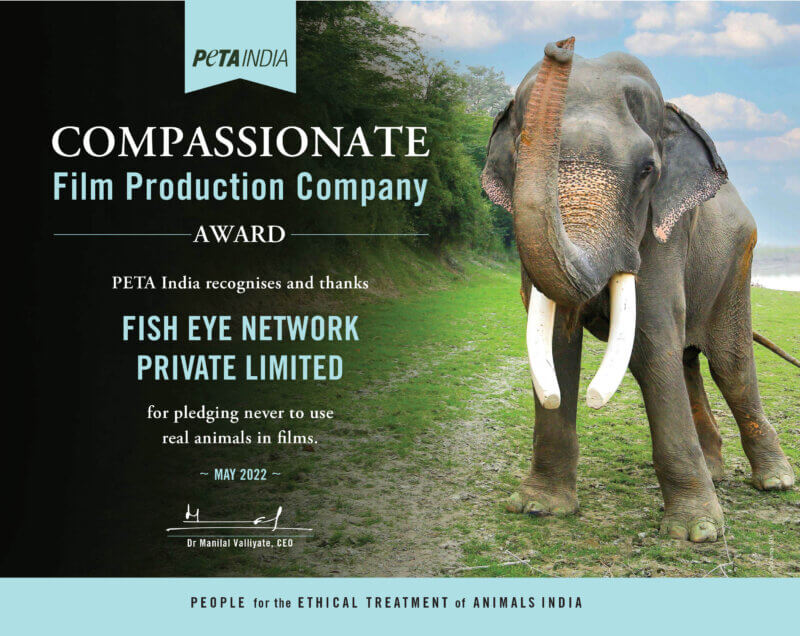 Unlike willing human performers, animals used in film, advertising, television shows, and other forms of digital content are forced to carry out actions that go against their natural instincts and behaviour. Trainers often use methods that involve coercion or punishment to force animals to perform, causing them pain and suffering. Producers who use animals often ignore such cruelty, considering that the Animal Welfare Board of India (AWBI) has already given pre-shoot permission for such performances. Moreover, animals are often carted long distances to stressful set environments, many are separated from their mothers as babies, and when not performing, they're typically caged or chained and denied companionship, psychological stimulation, and proper care. Animals have sustained injuries during filming and have even been killed, as was the case when a horse died on the set of Ponniyin Selvan last year.
Bhatt received a Hero to Animals Award from PETA India last year in recognition of her calls for a ban on horse carriage rides, her work to sterilise and rescue community cats, and her efforts to help animals in many other ways.
The government body the AWBI recently issued an advisory urging all of India's film producers' associations, OTT platform associations, and film chambers of commerce to replace live animals with artistic and technological means, citing animal welfare concerns.