PETA Youth Spreads Compassion All Around India in 2019
PETA Youth had another productive year in 2019. PETA India's powerhouse division for teens and 20-somethings spread compassion throughout the country and encouraged everyone, both the young and the young at heart, to make kind choices and have fun doing so. Here are just a few of the group's clever and colourful activities this past year:
• Caring Indian Institute of Technology (BHU) college students and Israeli art group Extra Crunchy showed their support for PETA Youth by creating an eye-catching wall painting with the message "It's cool to care, support animal rights."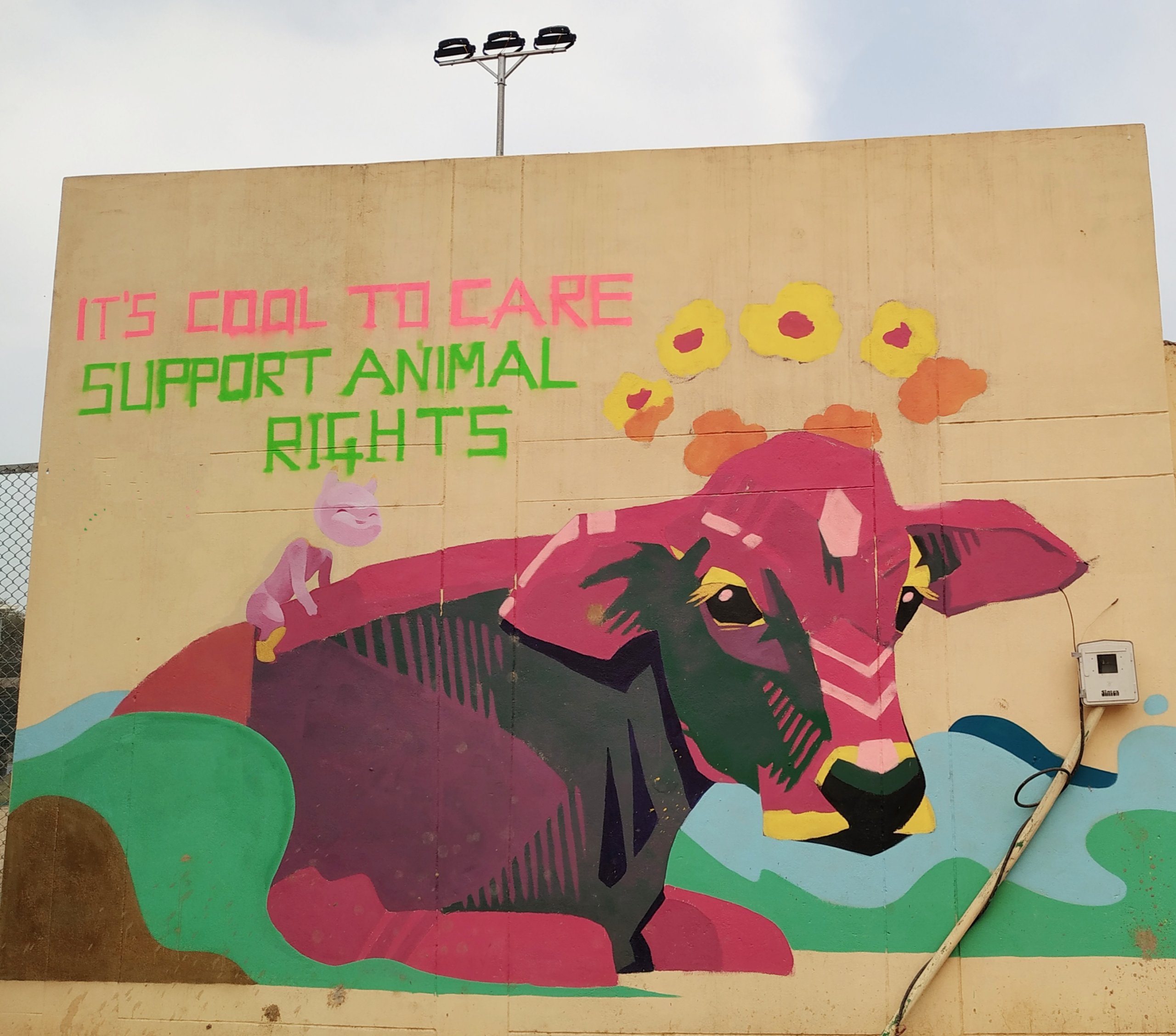 • Members of PETA Youth, the cycle group Pattern Riders took to the streets to encourage people to stop eating meat and other animal-based foods. As many as 80 cyclists rode more than 110 kilometres to promote PETA India's free vegetarian starter kits and urge everyone to pledge to go vegetarian.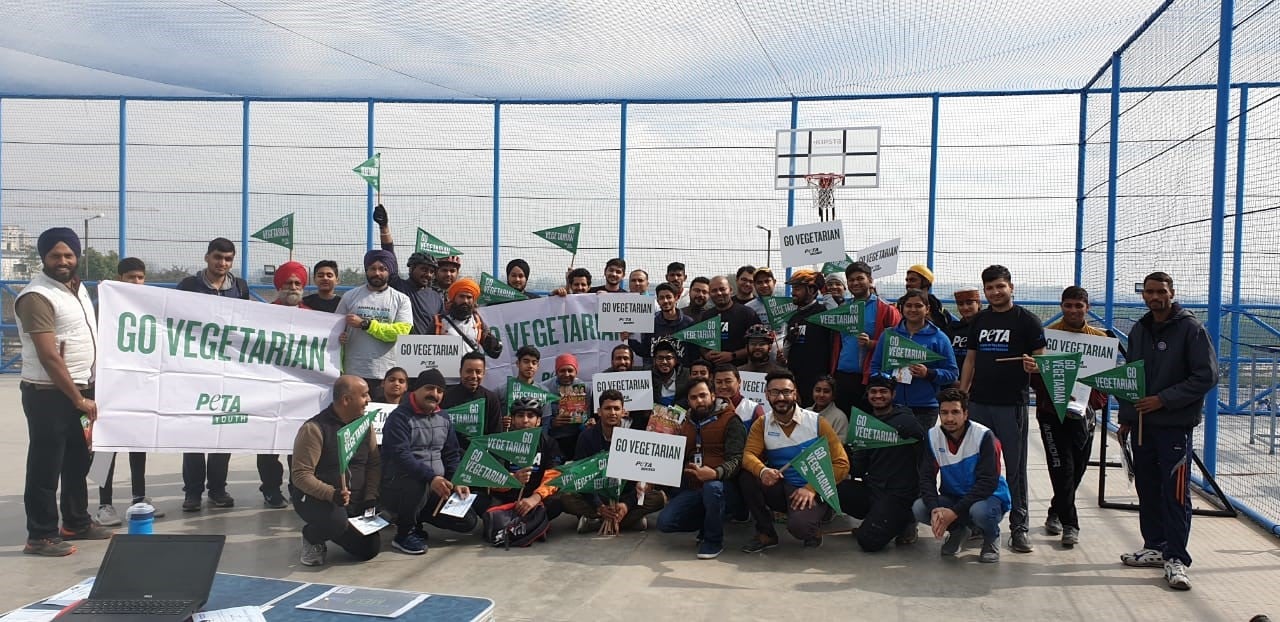 • On April Fools' Day, a representative of PETA Youth asked students at KJ Somaiya Institute of Management Studies & Research in Mumbai to guess which of two dishes had been made with vegan chicken. (They both were, of course!) Students were excited to learn that many vegan meats taste so much like their counterparts.
• In honour of World Health Day (7 April), PETA Youth partnered with Pinkathon, the biggest women's run in India, to explain how going vegan can help safeguard women's health. PETA Youth representatives also served vegan food and gave out free samples of Nutriva's dairy-free buttermilk and Good Dot's vegan meat. And PETA Youth's "carrot" mascot encouraged participants to use "plant power" to reduce their risk of developing cancer.
• PETA Youth took its "Save the Boy Child: Try Vegan" campaign, which raises awareness of the abuse endured by male chicks and calves, to various colleges and events around India. The initiative featured posters, leaflets, and a screening of a video showing how these male animals – deemed "worthless" because of their inability to produce eggs or milk – are discarded and killed. More than 5,000 students watched the video and signed the vegan pledge. PETA Youth reps also distributed free samples of Sofit's soya milk, Nutriva's almond milk and buttermilk, and RAW Pressery's almond milk to show people that vegan milks are quite tasty.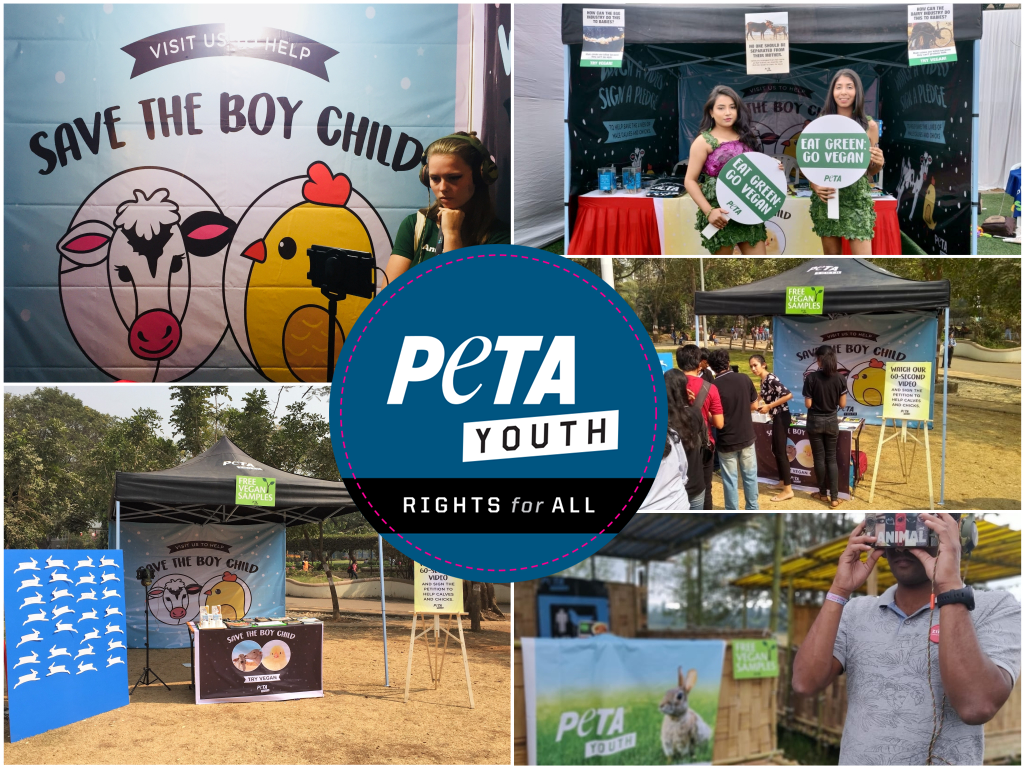 • PETA Youth also took its "I, Calf" virtual reality experience – which uses filmed footage and computer animation to portray a day in the life of a baby calf and a mother cow on a dairy farm – to various venues, including KJ Somaiya Institute of Management Studies & Research's Melange festival, IIT Roorkee, The Kind Fest, and WilderFest. Around 3,000 people were able to partake in the virtual reality experience and enjoy free samples of vegan milk.
• When Bhawanipur Education Society College organised a Model United Nations (MUN) event in Kolkata, representatives from PETA Youth attended and made a speech about living in harmony with animals.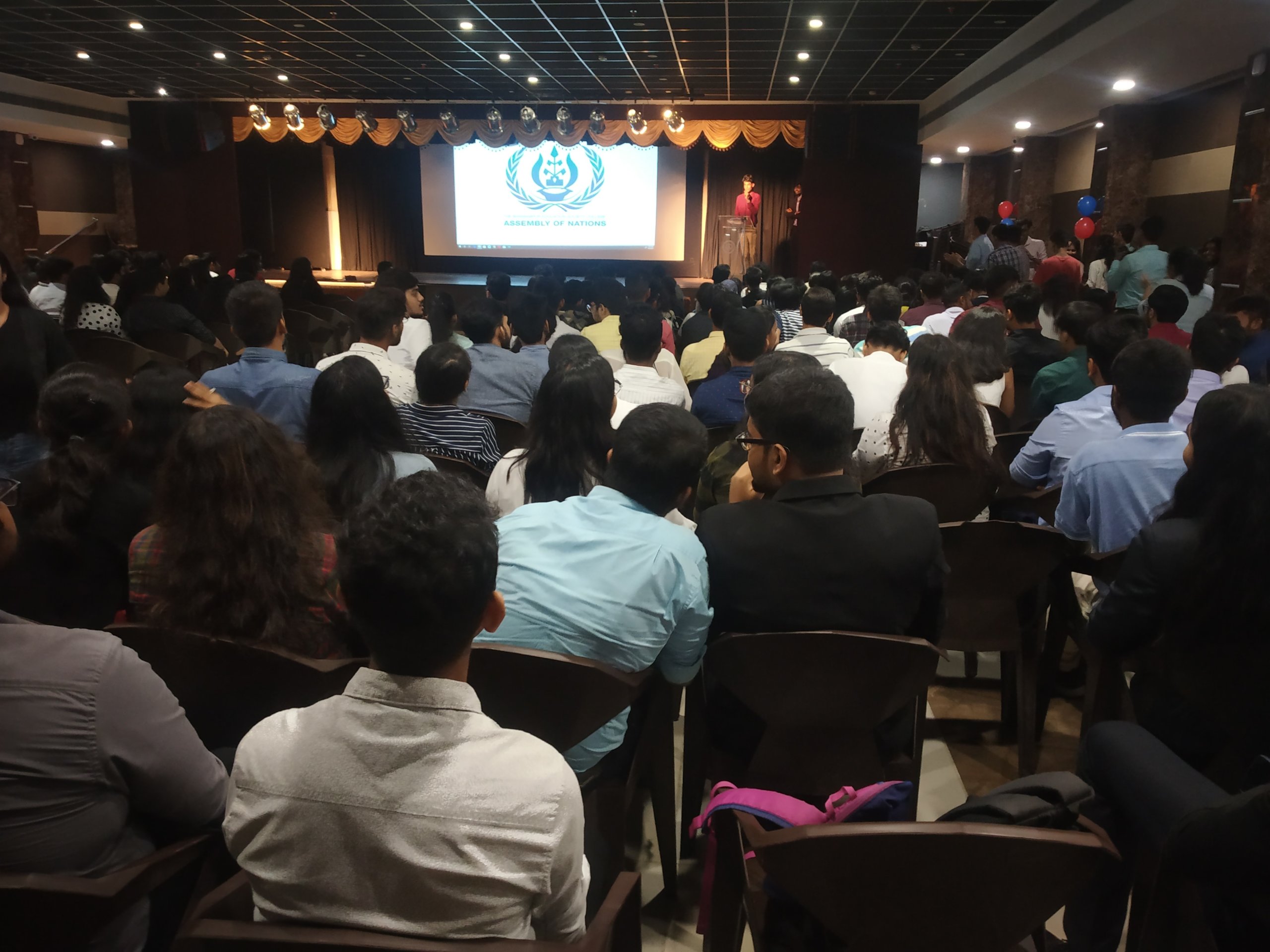 • A representative from PETA Youth gave a speech titled "You Can't Be a Meat-Eating Environmentalist" to more than 1,500 students at Kalinga Institute of Industrial Technology during another MUN event.
• PETA Youth reps attended Comic Con India events in Bengaluru, Delhi, Hyderabad, and Mumbai, not to play, but to promote the "Be a Superhero for Animals" campaign. Attention-grabbing games were played and literature was handed out to teach people about animal rights issues.
• Approximately 100 students from Jai Hind College in Mumbai joined PETA Youth for a climate change march at Marine Drive. The theme was "Entrepreneurs in Action", and the silent march was held to raise awareness of the connection between animal agriculture and climate change.
Please join PETA Youth to find out how you can participate in similar activities and have fun while saving animals.