PETA India Urges Government to Prevent Another Pandemic by Prohibiting the Import and Export of Wild Animal Skins, Fur
As fur farming promotes the spread and mutation of COVID-19, and because experts warn confining and killing wild animals for their skins risks causing future epidemics, PETA India has urged the MoCI to amend the country's EXIM policy to reinstate and expand prohibitions on the import and export of the skins and fur of wild animals as well as items made with those materials. PETA India met the Minister of Environment, Forest and Climate Change Shri Bhupender Yadav on 13 July and urged him to advise the MoCI to restrict the trade of these items. India had previously prohibited the import of the skins and fur of certain wild animals – a decision that was reversed last year.
During the COVID-19 pandemic, minks on fur farms were found to have contracted the virus from humans and to be able to pass it to humans, including in mutated form. Cases of the novel coronavirus were recorded on fur farms in Canada, Denmark, France, Greece, Italy, Lithuania, the Netherlands, Spain, Sweden, and the United States – prompting many countries to prohibit or phase out fur farming. Experts have also warned the trade in skins of "exotic" species, such as pythons and crocodiles, for fashion accessories increases the risk of dangerous viruses spreading to humans.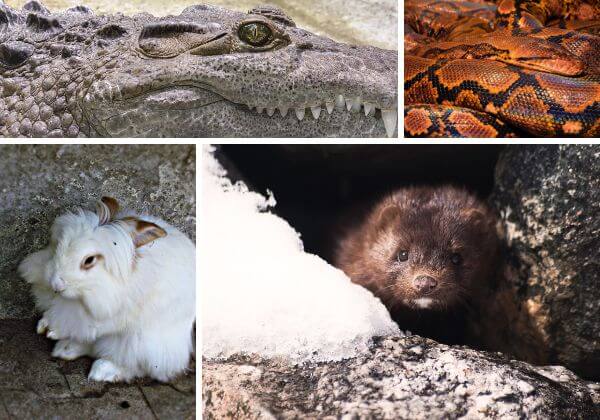 PETA entities around the world have released numerous exposés of the exotic skins industry. Alligators are kept in fetid water inside dank, dark sheds before their necks are hacked open and metal rods are shoved into their heads in an attempt to scramble their brains, often while they're fully conscious. And snakes are beaten with hammers, cut open from one end to the other with razorblades, and skinned alive. Animals killed for their fur fare no better. They spend their days in squalid wire cages before farmers kill them using the cheapest – which often means cruellest – methods available, including suffocation, electrocution, gassing, and poisoning.
Vegan fashion is the future. Choose animal- and environment-friendly clothing and accessories from PETA India's vegan approved brands: