NGT Seeks Government Response to PETA's Manja Ban Plea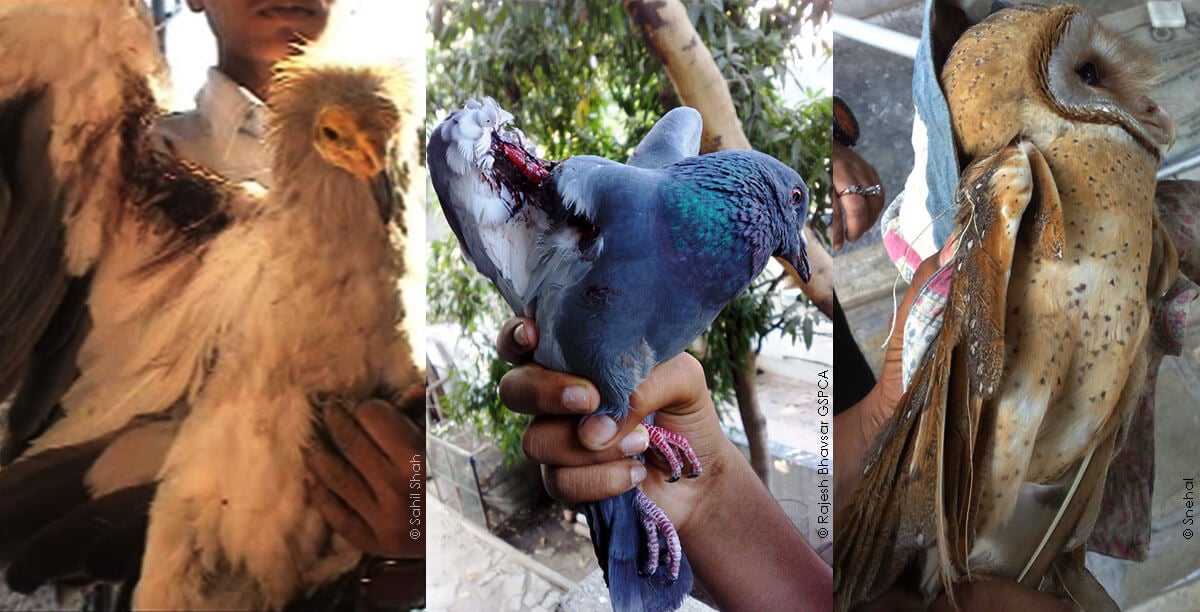 The National Green Tribunal (NGT) has issued a notice to the Central Government seeking a response to PETA India's petition to ban all forms of the sharp kite-flying strings called manja nationwide. PETA India filed the petition with NGT earlier this month, and the next hearing is scheduled for September 6.
As PETA India warns in its petition, manja – which is often coated with glass, metal, or other sharp material – poses a lethal threat to humans and animals alike. On 15 August, three people – including two 3-year-olds – were killed when their throats were slashed by manja. And recently, three people died when their throats were slashed by manja while riding motorbikes, including a man in Ghaziabad in July 2016, a man in East Delhi in August 2015, and a 5-year-old boy in Chennai, who was riding with his father, in 2015.
Thousands of birds are also killed every year when they are cut or trapped by manja, which can get caught on trees or buildings for weeks. The bird hospital in Delhi treated 500 birds who were injured in just three days during 15 August celebrations, and it expected the number to reach 1,000. A bird rescuer in Ahmedabad estimates that 2,000 birds – including pigeons and endangered species such as vultures – are injured every year during the city's Uttarayan festival, and 500 of them die from their injuries. According to estimates, more than 300 birds were injured and over 100 died because of manja during Makar Sankranti in Hyderabad in 2015.
The petition also states that manja causes expensive blackouts and electrocutes kite flyers. According to Delhi power company BSES, a single incident involving a kite near an electrical establishment can affect up to 10,000 customers. Delhi power companies also reported that compared to last year, the number of power-tripping incidents on 15 August had nearly doubled, from 18 to 33. Several top power companies, such as Reliance Power and Tata Power, have time and again issued advisories urging people not to fly kites near electrical establishments. Mukesh Patel was only 13 years old when he sustained burns over 95 per cent of his body because his kite hit a power line in Mumbai.
Manja made of synthetic material such as nylon is also non-biodegradable – it litters the soil and chokes drainage lines, sewer systems, and natural waterways. Citing the danger it poses to humans, birds, and the environment, the High Courts of Rajasthan, Allahabad, and Jammu and Kashmir have already issued directives to state governments about taking steps to ban the use of manja in their respective states. Many other states and district administrations – including Amritsar, Andhra Pradesh, Chennai, Gujarat, Indore, Karnataka, Maharashtra, the National Capital Territory of Delhi, and Telangana – have also taken steps to ban or restrict the production, sale, stocking, and use of manja. To protect the lives of both humans and animals, the Supreme Court of Pakistan has already banned manja in the country's Punjab province.
The Ministry of Environment, Forest and Climate Change has also issued an advisory to all states and union territories asking them to address the manja threat, and the Animal Welfare Board of India has written to all states and union territories urging them to ban it.
You can help prevent injuries to and the deaths of humans and birds. Ask authorities for a countrywide ban on lethal manja.