Monkeys Need Humans to be More Civilized
Humans evolved from monkeys thousands of years ago, but certain human acts are as uncivilized and barbaric as life in the prehistoric era. And this was all I could think about when I first heard about the monkeys held captive for over 20 years in AIIMS' central animal facility.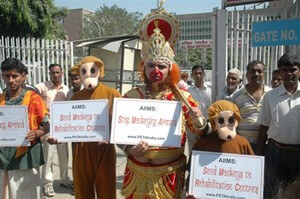 Confined in small cages, they suffer from various skin infections and most go insane due to pathetic conditions in the laboratories. You can watch the undercover footage below:
When we learned about how these animals were being treated, we started a campaign to urge AIIMS to rehabilitate the monkeys incarcerated at its central animal facility. We did several demonstrations outside AIIMS trying to put authorities to shame.
You can too join us in our efforts by leafleting outside AIIMS to make people aware about this insane act and urge AIIMS to switch to humane and widely available non-animal research alternatives. All you need to do is sign up for the Street Team!