Meet PETA's 2016 'Cutest Rescued Cat Alive' Winners
After pawing through hundreds of photographs of adorable rescued Indian cats and painstakingly narrowing the list down to 10 finalists, the last votes have been cast for the winner of PETA's Cutest Rescued Cat Alive contest.
While we recognise that all of the Indian cats in our competition were worthy of the title (the judges are still recovering from "purrfect overload"), the results are in, and Whini has won!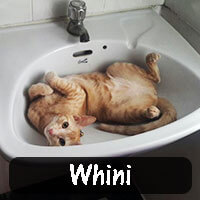 Swetha Priya found this cute golden cat the rain, and when she realised that the mother was not around, she took her home to live with her.
Whini will play with her new veggie-shaped toys and receive a first place certificate. Her guardian will receive a "My Cat Is a Rescue" T-shirt, a PETA T-shirt and a copy of PETA founder Ingrid E. Newkirk's book 250 Things You Can Do to Make Your Cat Adore You.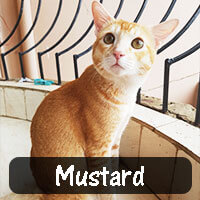 Mustard was drenched and dragging himself outside Nandini Baruva's house when she found him. A vet said that the kitten had sustained a spinal nerve injury. With Nandini's help, Mustard has recovered and is playful, and he's the centre of her life.
Our first runner-up will receive a copy of Ingrid's book, a second-place certificate, a "My Cat Is a Rescue" T-shirt and veggie-shaped cat toys. Our second runner-up will receive Ingrid's book, a third-place certificate and veggie-shaped cat toys. All three cats will appear in an upcoming issue of Animal Times, PETA India's magazine for members.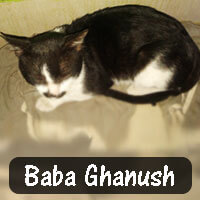 Abhishek Prusty rescued Baba Ghanush when a dog bit him. He is healthy now and loves to play and cuddle.
Buying a cat – whether from a pet shop or an individual breeder – means stealing a loving home from a homeless cat living in an animal shelter or fighting for survival on the streets.
Want to help out with the kitty cause? Help animals find loving homes by taking the pledge always to adopt and never buy cat companions. Also, don't forget to sterilize your feline friends to prevent overpopulation. Spaying (sterilising) just one female cat can prevent 420,000 births in seven years, keeping more cats off the street and in safe, loving homes.
If you live in Mumbai or within driving, including in nearby states, and are interested in adopting a cat, please e-mail us at [email protected].