'Injured Birds' Appealed to Pune Residents to Think of Birds This Makar Sankranti
On 13 January, three PETA India supporters dressed as birds entangled in sharp kite-flying string (manja) and covered in "blood" and held signs shaped like kites that read, "Cut Out Glass-Coated Manja, Not Wings". Their point? Glass-coated cotton and other sharp manja are responsible for injuries sustained by and the deaths of humans and thousands of birds and should be avoided to ensure that the festivals of Makar Sankranti and Lohri are safe and fun for all.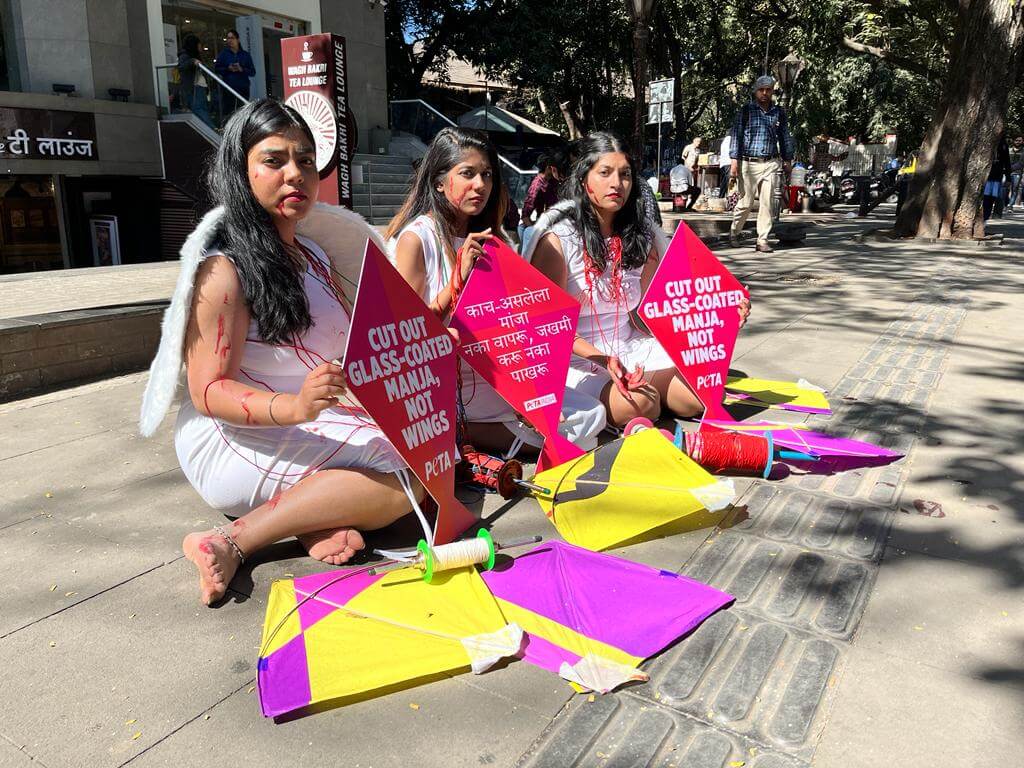 Manja, in all its forms, puts humans, other animals, and the environment at risk. Razor-sharp strings, reinforced with glass powder and metal, have a disastrous impact on bird populations. Thousands of birds are killed each year when they're cut or trapped by manja, which can get caught on trees or buildings and remain there for weeks. These birds, including endangered animals like vultures, are maimed by manja and often die from blood loss. Others escape and die slowly because rescuers cannot get to them. Manja then continues to pose a danger as it pollutes the environment and remains wrapped around trees and poles.
Manja also results in many human deaths. Just this month, a Mumbai man was grievously hurt from manja while riding his bike, and another man in Surat died when his throat was slit by manja. In December last year, a man in Daund, Pune, lost his life when stray manja lacerated his throat and made him fall from his bike. In January 2022, over 450 people sustained injuries in kite-flying accidents during Uttarayan festivities in Gujarat alone.
Manja also causes blackouts that are costly and can cause death from electrocution. Power distribution companies have warned against flying kites around electricity supply lines, as this can cause fire and outages due to short-circuiting.
It's time to stop these dangerous kite strings from taking any more lives – you can help by signing the appeal form below.