Harshvardhan Rane: Elephants Don't Enjoy Joyrides
Telugu actor Harshvardhan Rane is riding high after his successful Bollywood debut in Sanam Teri Kasam – but there's one ride the multi-talented heartthrob refuses to participate in: cruel elephant joyrides. That's why he is starring in a bold PETA campaign to show that elephants who are forced to give tourists rides are abused and suffer. Top photographer Rohith Rao shot the eye-catching ad, and Sheetal Jain expertly handled Harshvardhan's hairstyling and make-up.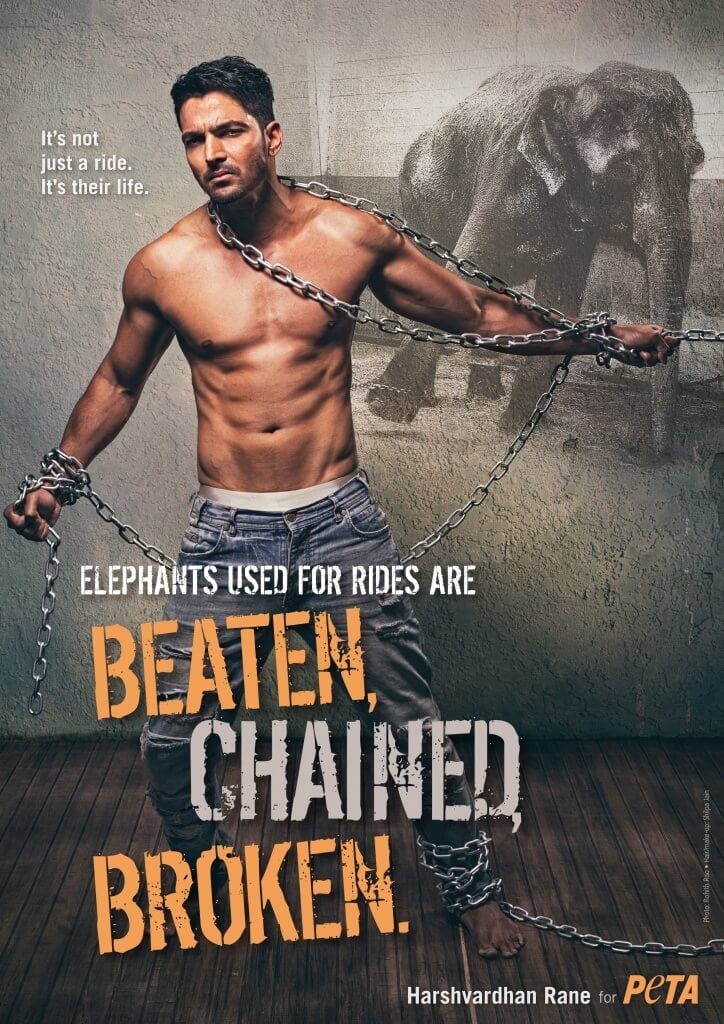 The Thakita Thakita and Prema Ishq Kaadhal star is not one to sit back and watch others suffer. In fact, he has helped raise money for a young girl's education and is now baring his chest to stand up for the elephants who are burned, maimed and beaten into submission just so tourists can ride them. Harshvardhan explains, "Elephant rides are not at all joyful for the animals. I don't think it is cool at all to apply force and make someone do something which they are not willing to".
A PETA-commissioned investigation of elephant training in Nepal and elephants forced to give rides in Jaipur uncovered rampant physical and emotional abuse. When they are just 2 years old, elephants are often torn away from their mothers and shackled with heavy chains and ropes or confined to a tiny wooden enclosure. Trainers beat them with sticks and jab them with iron hooks called ankuses until they lose all hope and submit. This torture can last for months. Trainers also punch holes in elephants' sensitive ears so they can yank on them to control the animals when they walk. When elephants hesitate or make a mistake, they are typically beaten. Eventually, they are forced to give people rides – even if they are blind or injured.
You can help elephants. Be a hero like Harshvardhan and never go on an elephant joyride. Please share this campaign with your friends and family to help end cruelty to elephants.