'Fugly' Cast Calls Angora Wool the 'Fugliest'
The cast from Grazing Goat Pictures' highly anticipated new comedy-drama, Fugly, is anything but – as proved in the stars' hot new ad for PETA. Compassionate actors Mohit Marwah, Kiara Advani, Arfi Lamba and PETA campaign veteran Vijender Singh posed with an adorable rabbit in order to urge fans not to buy angora wool. The ad was shot by talented fashion and celebrity photographer Gaurav Sawn, the actors wore cruelty-free outfits by designer Taaneeyaa Oak, Adrian Jacobs did the make-up and the actors' hair was styled by Aasif Ahmed.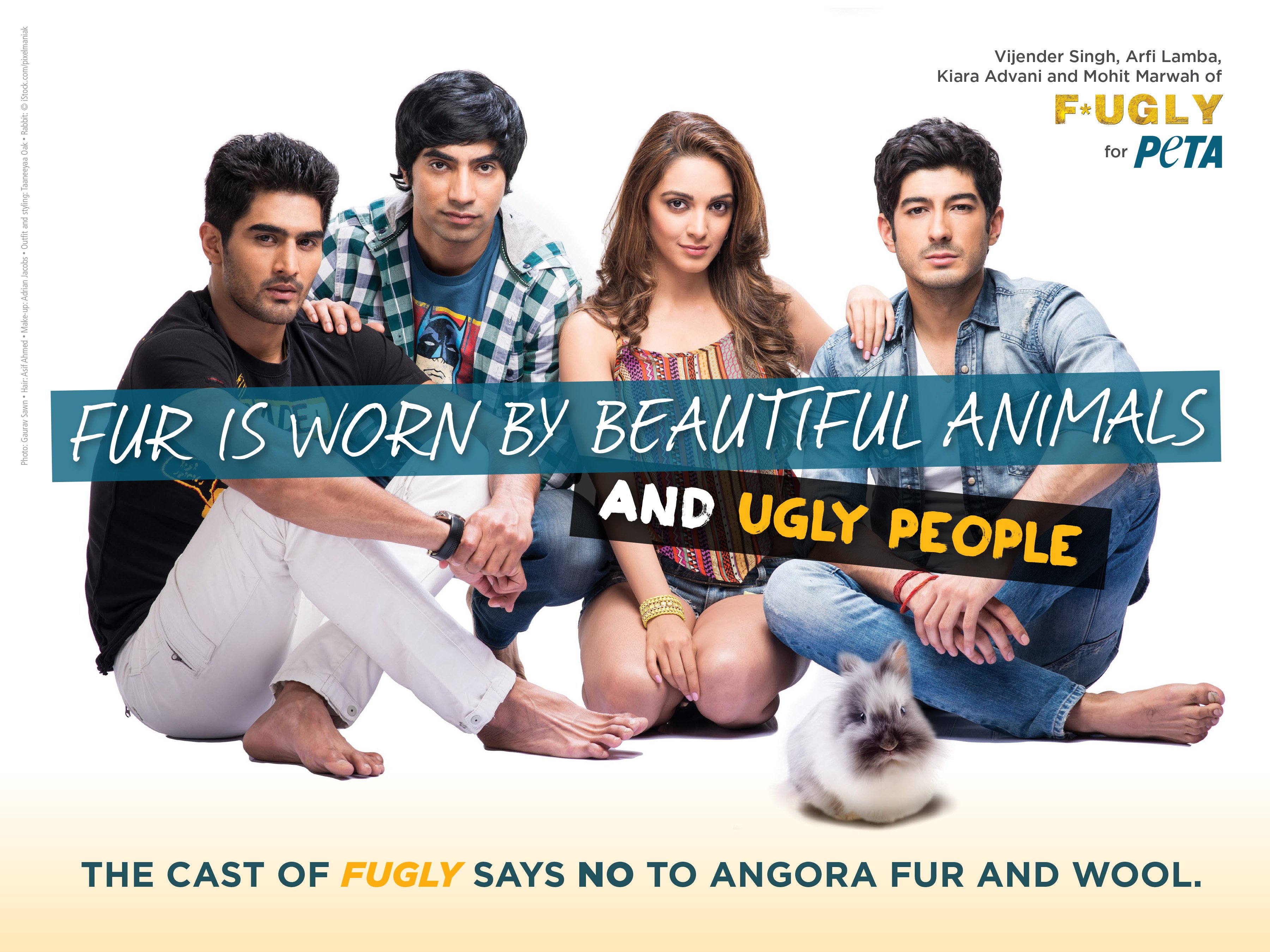 In the latest Delhi-based masala thriller, four friends enjoy their carefree lives as students until they get caught up in the seedy world of a corrupt police officer. This could be why these B-Town stars can relate to the fear and secrecy of the barbaric angora wool industry.
Ninety per cent of angora wool comes from China, where there are no penalties for the abuse of animals on fur farms. A PETA Asia investigation of rabbit fur farms in China documented rabbits who screamed in pain and terror as workers ripped the fur out of their skin – a cruel practice that the animals are subjected to every three months. After having their fur ripped out, the rabbits lie motionless from shock and terror in cramped, filthy cages. One farmer told PETA Asia's investigator that 60 per cent of the rabbits die after only one to two years.
Rabbits are intelligent, gentle and socially complex animals with individual personalities. In their natural habitat, rabbits live in spotlessly clean burrows and spend their time socialising and foraging for fresh, leafy food.
The cast of Fugly knows that you don't need to be cruel to stay warm and look cool. Many retailers are using synthetic, cruelty-free fabrics for sweaters, hats, scarves and other garments that are chic and guilt-free.
Don't be "fugly": read garment labels to ensure that what you are buying is angora-free and join the stars of Fugly in saying no to angora woolby pledging never to wear or buy it.