Dishoom Kumar and Karmacy Team Up for New Music Video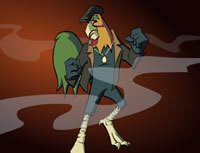 Part Bollywood hero, part henhouse heart-throb, our new mascot, Dishoom Kumar, is one righteous rooster – the ladies love him and the butchers fear him. With a killer smile and "flock" star style that drives "chicks" crazy, DK is so cool that he teamed up with the hip-hop group Karmacy and Mahoot Media, the creators of Badmash TV, to make his own bad-ass PETA Youth music video for Channel [V]!
In the music video – which features a catchy rooster rap by Karmacy – an evil butcher flies the coop with Dishoom Kumar's harem of hen honeys. Chasing the butcher down, our hero saves his lady friends from being turned into a table full of tikkas by unleashing a bold Bollywood dance and giving the butcher's truck one "dishoom" of a kick. In the end, our handsome hero gets the girl of his dreams – Bollywood starlet Cluckwarya Rai!
Now read on to see what Nimesh from Karmacy has to say about music, animal rights and "working with" Dishoom Kumar.
Tell us how Karmacy started out?
We are four guys. A few friends decided to start a record label. Back in 1996-1998, all four of us were performing individually in different parts of the country. At that time, no South Asians were doing hip-hop music. So we were able to connect with each other. We were brought together by Sammy and Ramneek, who started the record label Rukus Avenue. Our first song was "Passage to India". We really enjoyed working together.
Why is it important for Karmacy to be multi-cultural?
If you look at hip-hop music, authenticity is very important. You are always judged by how authentic you are. So it helps if you can replicate that in your lifestyle. So it suits us to be multi-cultural. Our parents are from South Asia. I was born in America. One of the group members was born in England. We have grown up in the West but have deeply embedded Eastern roots.
Why do you think it is important to support an animal protection group like PETA?
I am a vegetarian now. I love animals. My support comes from that aspect. But I was not always a vegetarian. Once I got out of college, I knew that I wanted to become a vegetarian. But it was a gradual process. Whenever I visited India, I would feed the cows. I found them to be the cutest thing. That's when I realised, "What the hell – how can I eat beef?" Last year, as a test drive towards vegetarianism, I stopped eating beef and red meat. And this year I stopped eating fish to begin with, and from March onwards, I have been a complete vegetarian. I did so for good heath and for the love of animals, and I am very satisfied with my decision.
What would your message be to young people who want to go vegetarian?
My message to young people would be to be practical and do exactly what you believe in. We all have an underlying belief that killing any organism or animal is wrong. At the same time, we live in a practical world, and sometimes circumstances don't allow us to do what we wish to do. If you believe that killing animals is wrong but are facing obstacles in going vegetarian, adopt a practical approach. Try to do it gradually and work towards achieving what you believe in.
Do you know anything about factory farming and how animals are treated on factory farms?
Yes. It is really cruel. In fact, it's gruesome. I often tell my friends this. I wish people took trips to slaughterhouses. It's important to face reality. I feel more people should be exposed to videos which could show them the cruelty during slaughter.
One of our biggest campaigns is against KFC. What would your message be to the president of KFC about how KFC should treat their chickens?
Good question. The fast-food industry is trying hard to improve its image. It's trying to be more health conscious in order to stay with the times. KFC is already in the hole. It's not going to help if they go around battering their chickens. So treating their chickens better would be one step towards cleaning their image.
Karmacy was behind the making of the Dishoom Kumar video. How was that experience?
It was fun making the Dishoom Kumar video. It is our first animated music video. I have written the song for it, and the music has been produced by Sammy. Through the video, we were able to personify an animal – who is generally used as meat between bread slices – as the hero. Here, Dishoom Kumar is the hero, and it is the butcher who gets tossed around. This personification gives a certain kind of an inspiration, especially to animal lovers, because generally animals are belittled. In reality, animals are more intelligent than we think they are. And presenting them in hip-hop style, which is modern and urban, is really appealing. I love the fact that PETA can think outside the box and come up with such things.
What would you like to say to young people about protecting animals?
I am reminded of Elton John's song "Circle of Life". God has created this system. If we humans disturb this circle of life, it would mean bad karma. I would simply wish to say to be good to others – anything that is alive.