Dia Mirza Urges Fans to Shed Skins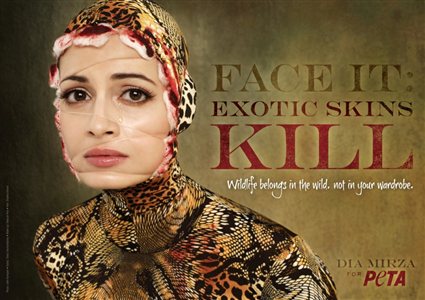 Bollywood actor and beauty queen Dia Mirza knows that being comfortable in your own skin is sexy – but stealing someone else's definitely isn't. That's why Dia teamed up with PETA India for a punchy ad urging her fans to shed exotic skins from their wardrobes. The ad was shot by ace photographer Jatin Kampani. Nahush Pise applied the stunning make-up, and credit for the costume and styling goes to Theia Tekchandaney.
Dia was horrified to learn how snakes, alligators and other animals suffer in the exotic-skins trade. Snakes are often nailed to trees or posts, skinned alive and left to suffer, sometimes for hours, before dying of shock or dehydration. Alligators are often crammed into small spaces on factory farms and then beaten to death with hammers or axes.
"Skinning animals alive or beating them to death for a pair of boots or a purse cannot be justified", says Dia, an ardent PETA India supporter. "By choosing widely available fake snake and mock croc, you can pay tribute to these animals' beauty without stealing their skins and killing them."
Take Dia's advice and take the pledge to shed exotic skins from your wardrobe.
Pledge to Shed Exotic Skins From Your Wardrobe
I, the undersigned, hereby pledge to shed exotic skins from my wardrobe. I say "No!" to the cruel slaughter of millions of animals around the world for their skins. I say "No!" to shoes, coats, bags and other products made from the skins of animals and to any other attempt to sneak animal skins into everyday items. I pledge to expose the truth about exotic skins and to spread the word until we close down the exotic-skins trade forever.
यहां साईनअप करके व अपना संपर्क विवरण देकर आप यह स्वीकार करते हैं कि आपने हमारी प्राइवेसी पॉलिसी को पढ़ा है वह आप उस से सहमत हैं।