Neil Nitin Mukesh Speaks Up for Elephants
Just in time for World Elephant Day, actor Neil Nitin Mukesh is adding his voice to raise awareness of an issue close to his heart: the suffering of elephants used for tourist joyrides. Check out the print visual for his campaign here: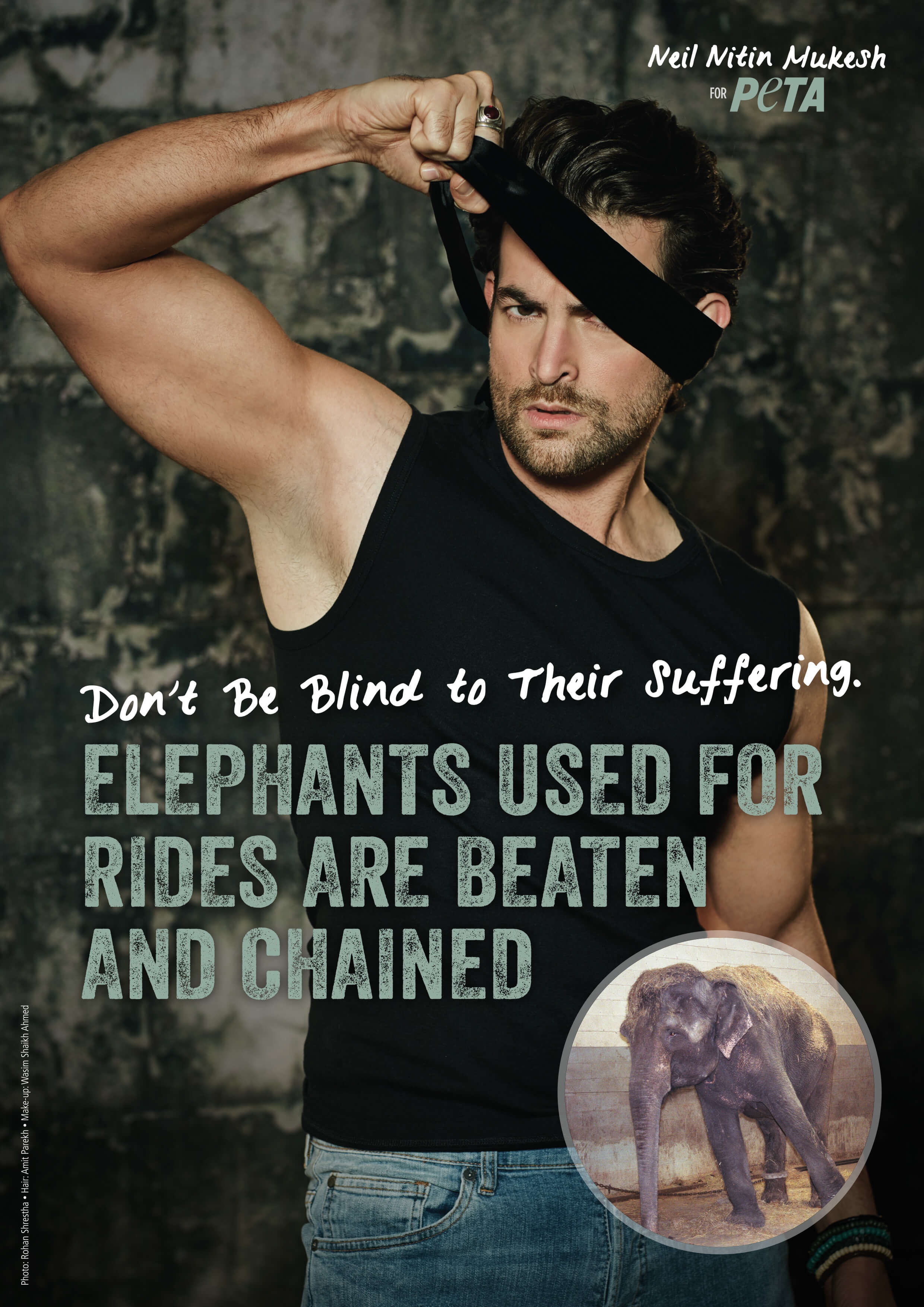 The ad was shot by top photographer Rohan Shrestha. Neil's hair was done by Amit Parekh, and his make-up was done by Wasim Shaikh Ahmed.
Neil – the star of Wazir and SIIMA Best Actor in a Negative Role Award winner for the Tamil film Kaththi –says, "On World Elephant Day, I join forces with PETA and request everyone to pledge never to use the majestic elephant for joyrides. What seems [enjoyable] to us is a lifetime of suffering for them. They look beautiful in nature, not in captivity. Let's empower our future".
So-called "joyrides"are miserable and painful for the elephants who are forced to give them. A PETA-commissioned investigation of elephant training in Nepal and an Animal Welfare Board of India–authorised inspection of elephants used for rides in revealed that these animals endure constant physical and emotional abuse.When they are just 2 years old, baby elephants are torn away from the tender care of their mothers and are either tied up between trees with heavy chains and ropes – which cause painful burns – or confined to a tiny wooden enclosure called a kraal. In a process that often lasts for months, trainers then beat the young elephants with sticks and jab them with sharp, hooked ankuses until they lose all hope and begin to obey commands. These metal weapons are also used to pierce their sensitive ears, yank them, and force them to walk a certain way. Throughout their lives, these elephants are thrashed and seriously injured by handlers, who often force them to give rides while they're suffering from untreated open wounds.
Join Neil and take the pledge not to ride elephants today.
Take the Pledge