Celebrate World Vegan Day With the Stars
Happy World Vegan Day! Vegan eating is one of the fastest growing trends in food, with pacesetters from Bollywood to Hollywood embracing healthy, humane and eco-friendly diets. And why wouldn't they? In addition to slashing their risk of heart disease, cancer and diabetes, vegans are helping to stop environmental destruction caused by factory farming and saving animals' lives.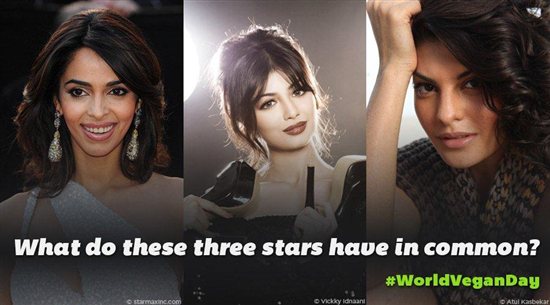 That's why Bollywood actors Mallika Sherawat, Jacqueline Fernandez (also a former Miss Sri Lanka Universe) and Ayesha Takia-Azmi have all gone vegan. So have Hollywood stars Casey Affleck, James Cromwell, Joaquin Phoenix, Kristen Bell, Michelle Pfeiffer, Alicia Silverstone and Pamela Anderson.
American singer Carrie Underwood, also a vegan, put it simply: "I'll never eat meat again, because I look and feel better without it". And it isn't just entertainers who are expanding the vegan revolution. Many athletes are loving the fitness benefits of vegan diets, including former world heavyweight boxing champ Mike Tyson and mixed martial arts fighter Mac Danzig.
Even former US President Bill Clinton started eating vegan in order to address his heart problems, and now he belts out praise for vegan food, just as he belts out tunes on the sax.
It's a fact: Celebrities have a bigger stage than most of us do. That's why it's so encouraging that so many of them are going vegan and inspiring others to think about exactly whom they are eating.