Amritsar Police, PETA India, and Aashray Foundation Display Hundreds of Seized Spiked Bits Used to Control Horses in Weddings
Local police, PETA India, and Aashray Foundation displayed hundreds of seized spiked (or "thorn") bits used to control horses through pain, calling on everyone to celebrate weddings and other special occasions without involving animals. Police confiscated the torture devices – which are designed deliberately to incise animals' mouths – from horse owners, as the use of these contraptions violates Rule 8 of the Prevention of Cruelty to Draught and Pack Animals Rules, 1965, and replaced them with painless smooth bits. Similar law enforcement drives have been recently conducted by PETA India in Chandigarh, Delhi, Maharashtra, Mohali, and Panchkula. Over 500 spiked bits were seized from these areas. Peedu's People assisted with the effort in areas of Chandigarh, Mohali, and Panchkula.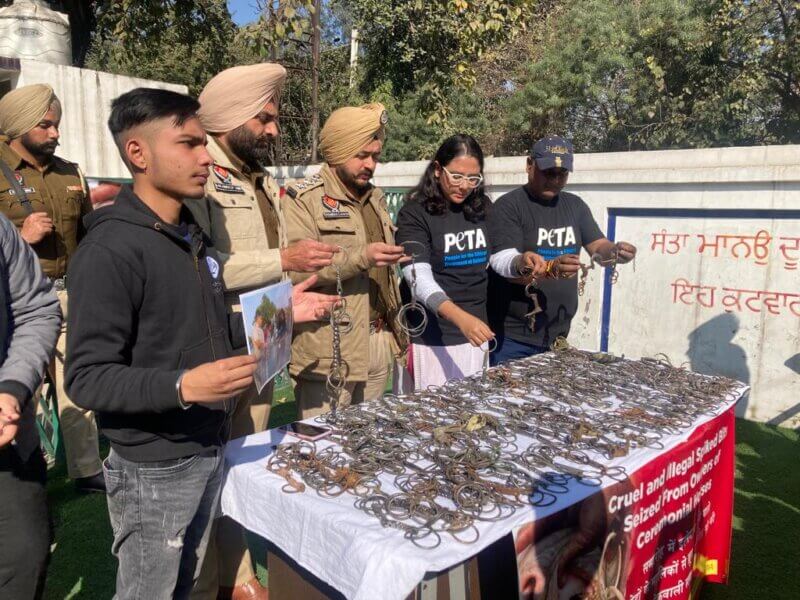 PETA India has launched a nationwide campaign aimed at helping police enforce the ban on using spiked bits on horses. After being contacted by PETA India, several states and union territories – including Assam, Bihar, Delhi, Himachal Pradesh, Karnataka, Telangana, and Uttar Pradesh – also issued orders mandating the enforcement of this prohibition. PETA India is campaigning not only for police to search for and confiscate the illegally used devices but also for legislation to be introduced to close a loophole that still allows their manufacture and sale.