Actors Gaurav Gera and Rohit Gujjar Nab 'Hero to Animals' Awards for Rescuing Baby Parakeet During the Lockdown
PETA India is granting Hero to Animals Awards to television actors Gaurav Gera and Rohit Gujjar for rescuing a baby parakeet who was being attacked by a crow. The friends freed the bird, took care of her, and contacted PETA India for her rehabilitation. Gaurav also posted a video on Instagram, as his famous Billi Masi character, to tell his fans why birds don't belong in cages. Actor Shilpa Shetty commented on the video to show her support.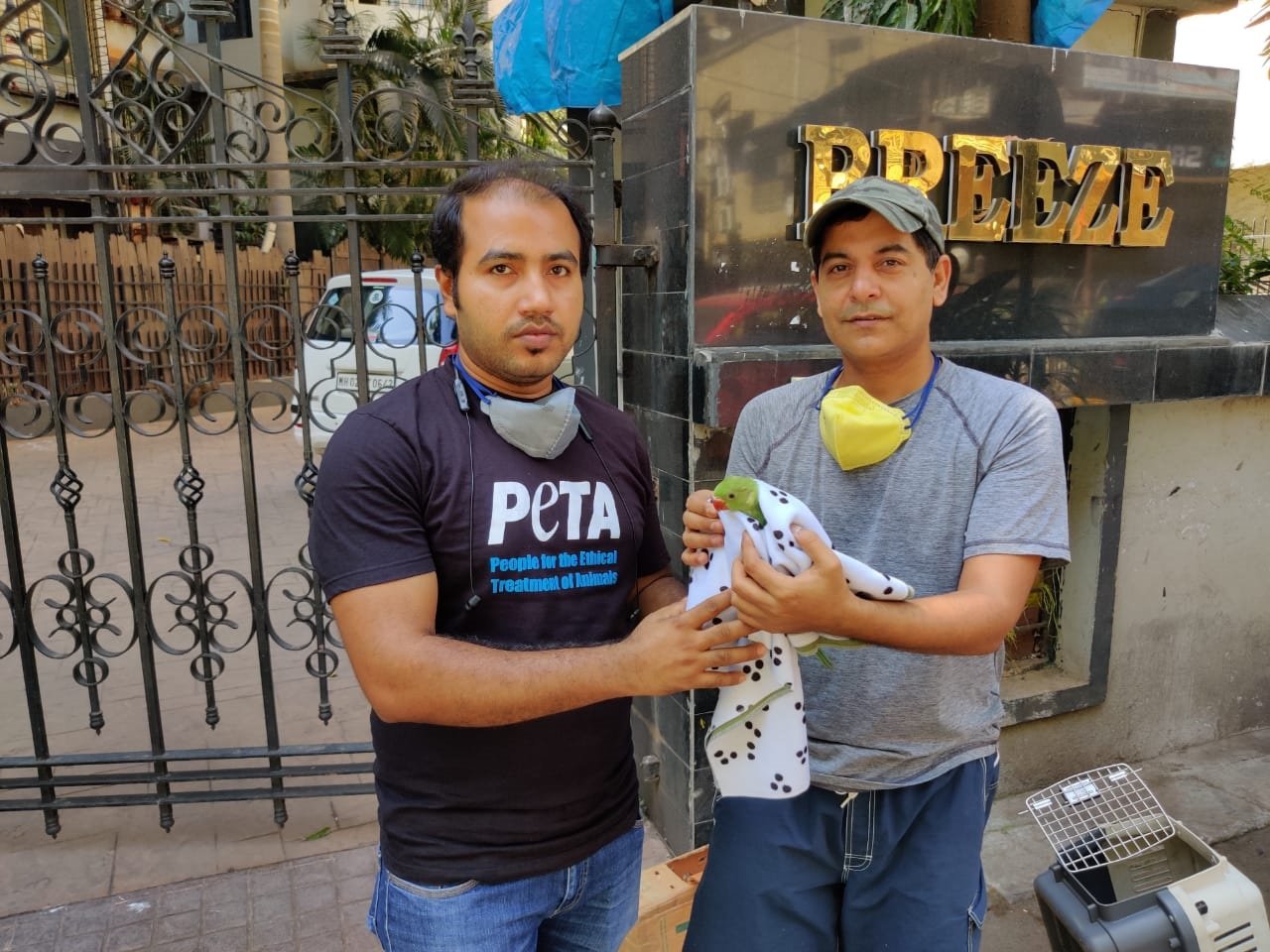 In nature, birds engage in social activities such as taking sand baths, playing hide-and-seek, dancing, building nests with their mates, and nurturing their young. But when they're caged, these normally vibrant animals become depressed and withdrawn. They often over-preen themselves to the point of mutilation. Some humans clip birds' wings so that they can't fly away, but flying is as natural and important to birds as walking is to humans. Birds are captured from their natural habitat, packed into small boxes, and shipped to be sold into captivity. Many suffer and die in transit, usually from broken wings or legs, dehydration, starvation, or stress.
The actors will receive framed certificates and letters of appreciation from PETA India. Previous recipients of our Hero to Animals Award include Odisha Chief Minister Naveen Patnaik for allocating funds for feeding community animals during the lockdown; Shilpa Shetty  for speaking out against the cruelty of circuses and taking other actions for animals; Delhi Minister of Food and Civil Supplies, Environment & Forests and Elections Imran Hussain for protecting the lives of humans and animals by banning all forms of manja; Zareen Khan for rescuing a cat from the streets; Cyrus Broacha for refusing to perform a stunt that involved riding a bull; Rani Mukerji for helping a dog in distress on her film set; Asin for saving a dog who was hit by a car; Imran Khan for stopping a dog trainer who was smacking a dog on a film set; Sadha for helping a puppy who had just avoided being hit by a car during a rainstorm; and Dia Mirza's production house, Born Free Entertainment, for showing that homeless animals make wonderful additions to families.