5 Ways PETA India Helps Elephants
As of 2019, there were 2675 elephants in captivity in India. This number represents the thousands of elephants who were once used in circuses or are still used for rides or in ceremonies, films, and other performances. Such elephants are traumatically torn from their mothers when young, chained up when not forced to work, often kept in total isolation, and controlled through the use of weapons. PETA India is working to stop this abuse, and here are five ways we've succeeded towards that goal:
Many elephants are used by people begging for money. These animals are forced to walk on burning hot pavement and are typically malnourished, surviving on rotis and other small handouts from members of the public of food that elephants would never consume in nature. PETA India rescued Lakshmi, who was dubbed "India's skinniest elephant", from such a plight, following an intensive three-week campaign. The efforts of PETA India and local activists led to her seizure by the Madhya Pradesh Forest Department and her eventual handover to a specialised elephant care centre, where she now lives unchained and in the company of other elephants.
Dozens of elephants were once used in circuses, but this is no longer so! In 2020, the Central Zoo Authority, a statutory body operating under the Ministry of Environment, Forest and Climate Change, cancelled the recognition of the Great Golden Circus, the last circus in India using elephants for performances. The action followed a years-long campaign by PETA India. Official inspection reports, in which PETA India played a part, pointed out the cruelty inherent in training elephants using violence, breaking their spirits to make them obey human commands, forcing them to perform uncomfortable and confusing tricks, and exhibiting them in crowded, noisy, and unnatural environments. Watch this video to find out what elephants no longer have to endure in Indian circuses.
Elephants are also used in films, another form of exploitation that is not fair on the animals. For a fleeting moment on screen for human entertainment, these animals endure a lifetime of suffering. Besides, these days, filmmakers can opt for technology such as animatronics, CGI (computer-generated imagery), and visual effects instead of using live animals. Pooja Bhatt knows this. That's why, in response to an appeal from PETA India, Pooja – director of the Fish Eye Network – made history by becoming the first film director in the country to pledge never to use animal actors in the company's films.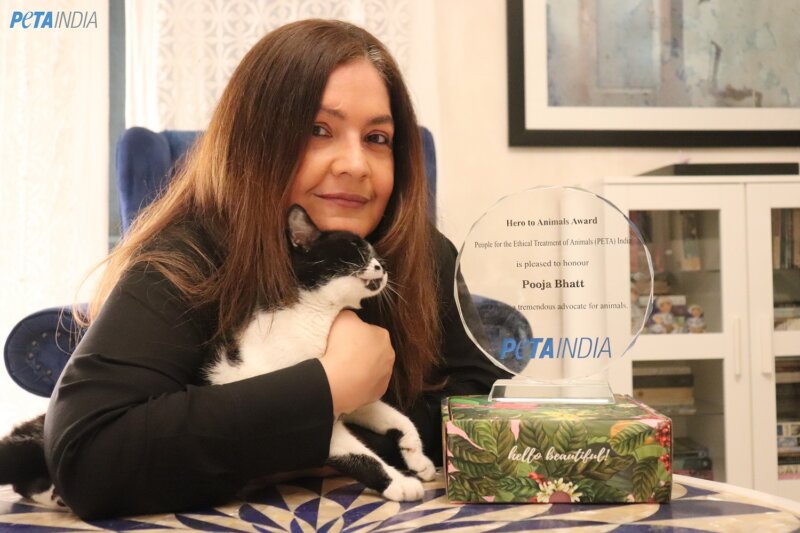 Some elderly elephants, who may once have been used for weddings or festivals, to give rides, or for other human ends, languish nearly forgotten at the end of a chain. Elephant Gajraj spent more than 50 long years chained near the popular tourist spots Shri Bhavani Museum and Yamai Devi temple in Aundh, Satara. In 2017, Gajraj was finally freed. This old elephant, whose appalling treatment sparked a global #FreeGajraj campaign led by PETA India, was transferred to the Wildlife SOS Elephant Conservation and Care Centre in Mathura – a collaborative project of Wildlife SOS and Uttar Pradesh Forest Department – to receive vital veterinary treatment and begin his integration into the company of fellow elephants after all those years alone. Gajraj was rescued with the support of the Maharashtra Forest Department.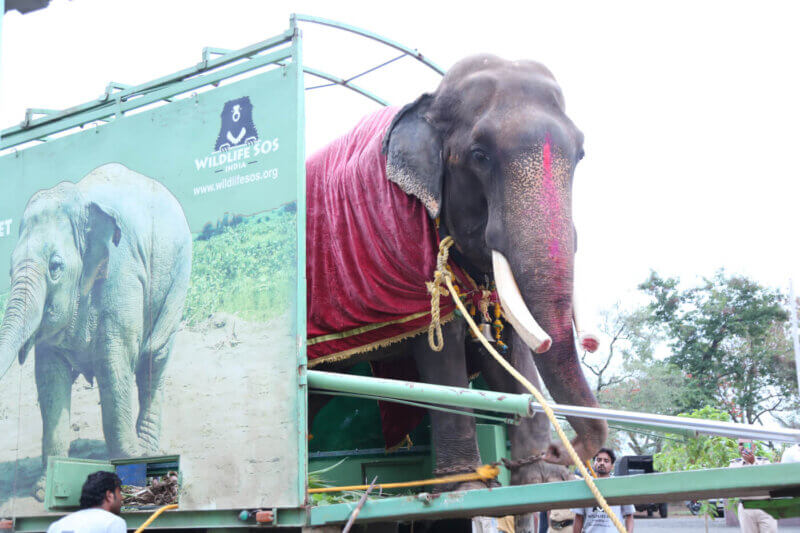 Many elephants in temples live for decades never, or barely ever, seeing another elephant. Ram Prasad was one such animal, who had been kept in solitary confinement for 23 years at the Pali village temple. In January 2015, Ram Prasad was used in the Khandoba Yatra festival parade. There, thousands of people were chanting and banging drums, and many were throwing coloured powder, which got into his eyes and distressed him so much that he ran amok. In his panic, he crushed a woman to death and injured three other people. For the next 10 months, Ram Prasad was kept tightly chained, unable to take a step in any direction for fear that he would kill again. PETA India provided support and help to Animal Rahat, a group that was working with the temple officials to help Ram Prasad. Convinced that they were unable to provide Ram Prasad specialised care, temple officials agreed to release him. Government authorities then approved a transfer, and now, Ram Prasad continues to live free in a sanctuary.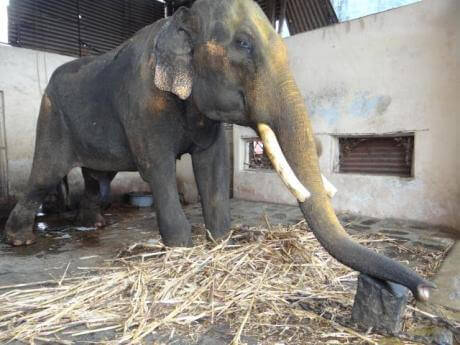 You can help elephants, too! Sign this appeal urging officials to prohibit the use of elephants in performances.