What Have 15 Lucky People Won?
Well, what a compassionate and talented bunch you are! Entries poured in from all over the country so that people could get a taste of Amore's mouth-watering dairy-free sorbets for Valentine's Day. Sweet!
Fifteen lucky winners have been chosen! They will each receive a coupon from Amore good for one 500-millilitre serving of sorbet in any flavour of their choosing.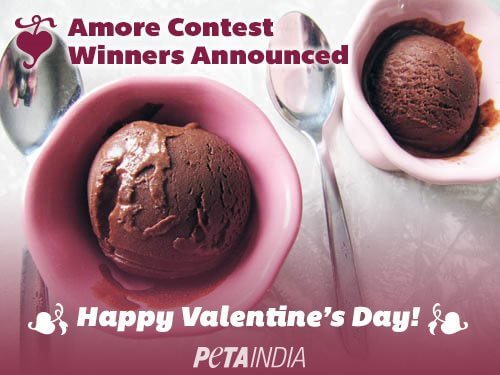 To win, all they had to do was answer this question: "Why is going dairy-free the best way to show love?"
Without further ado, here are three of our favourite replies:
Aarushi Tewari: "Going dairy-free is the best way to show love because you are not showing love just to one group of animals but to the whole animal kingdom. You may always feel compassion towards animals but if you don't do something for them that feeling is of no use. Moreover you save 100 animals a year!! Can anything get better than this? Therefore take [the] pledge to go dairy-free to show love to your dear ones and the most generous living beings, the animals".
Ymberzal Koul: "Because [the] dairy industry is cruel. They steal calves while the mom cries desperately. We love our nears and dears, and so do animals".
Nayan Bhushan: "We consider cows as our mothers in India here and if no one else, you always do and ought to stand up for wrong being done to your mother. Respect for Gau Mata should prevail and the milk should be for her calves, not for anyone else".
Congratulations to our winners!