Want to Win Free Passes to the India Yoga Festival?
Contest is closed now! Check back on 9 December to see who won.
Exercise and nutrition go hand in hand. That's why the India Yoga Festival has invited PETA to be its main sponsor and help promote the benefits of doing yoga and eating plant-based foods. Now it's our turn to share the love: tell us how eating vegan food compliments your yoga, and you could win two free three-day passes to the India Yoga Festival in Ashvem Beach, Goa!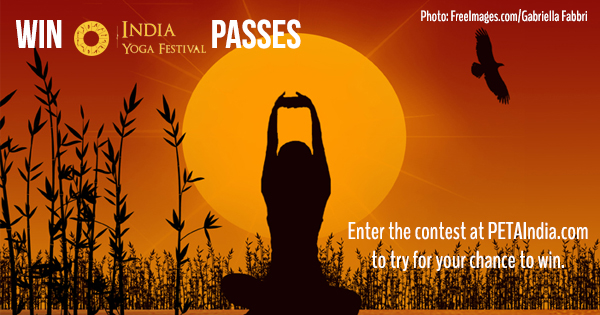 Submit your answer using the form below. The five answers packed with the most plant-powered prana will win.
When internationally renowned yoga teachers, inspiring swamis, ashram directors and thousands of global yogis come together for three days of classes, workshops and kirtans, it is nothing short of spectacular. Starting on 5 January 2016, five lucky winners and their guests will get to bend and twist their way towards healthier living amongst fresh fruit bowls and other delicious raw vegan dishes. Winners can also visit PETA's stall decorated with pro-vegetarian celebrity ads, including one featuring the late yoga guru , and pick up free information and cool merchandise. There's even going to be a joint presentation about choosing a vegan lifestyle and its impact on health and the environment by PETA India's nutrition advisor Bhuvaneshwari Gupta and Associate Manager of Celebrity and Media Projects (and yoga practitioner) Benazir Suraiya.
Why eat vegan? Because fruits, legumes and vegetables are packed with all the vitamins, minerals and essential nutrients that our bodies need, without all the cholesterol, saturated fat and contaminants found in meat. Eating meals free of dairy foods, eggs and meat also reduces one's risk of developing life-threatening medical conditions, including diabetes, heart disease and cancer – and it doesn't .
Don't miss your chance to celebrate your mind, body and spirit with us at the India Yoga Festival in Goa. This contest is open to residents of India only. Entries must be received by 04 December 2015 . The winners will be chosen by PETA's judges, based on our assessment of how inspirational and motivational your answer is. PETA will announce the winners by 09 December 2015. No purchase necessary. Void where prohibited by law.
Namaste, friends!
By filling out this form, you are agreeing to our terms and conditions.
By signing up here and giving us your contact details, you're acknowledging that you've read and you agree to our privacy policy.