Most Victoria Carriages Illegal
During the recent High Court of Bombay proceedings regarding the case in which non-profit organisations, including PETA, are calling for a ban on cruel Victoria carriages in the city, it was revealed that now only 18 Victoria drivers carry licenses to ply, while all others are completely illegal. The counsel for the traffic commissioner informed the court that a total of 53 applications for licenses were received, out of which 35 were outright rejected on the basis of offences against the carriage drivers, horses who weren't fit, cruelty to animals, overloading and other illegalities.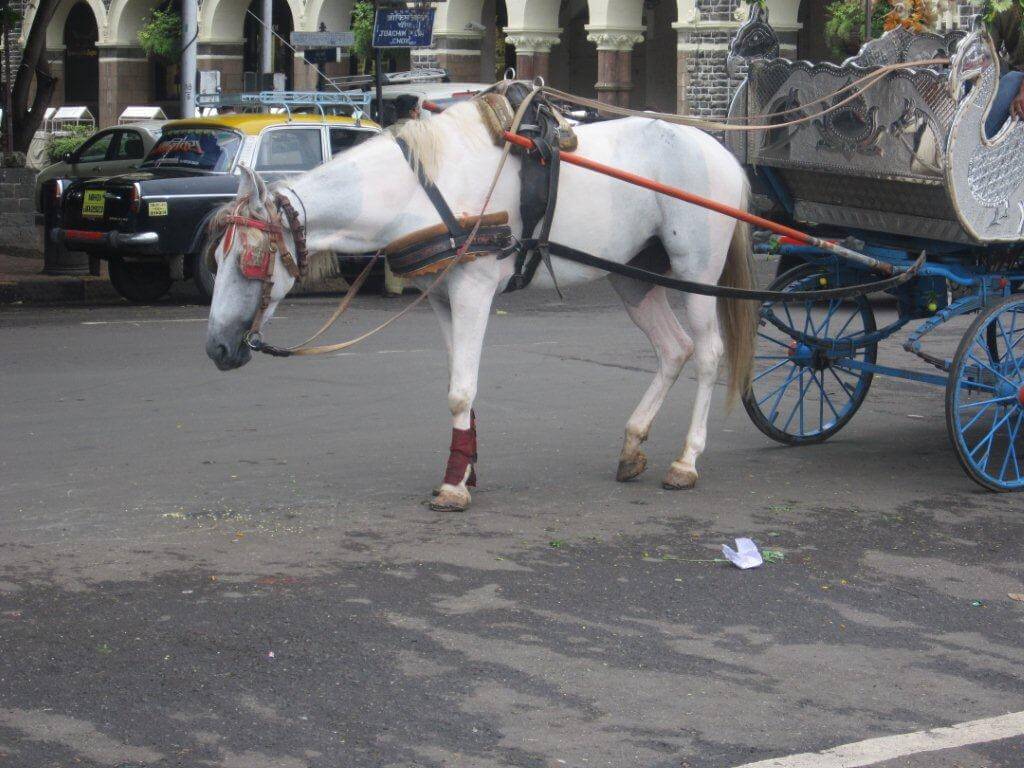 On 4 October 2012, the Honourable Court stated, "The Licencing Authority while exercising powers under the provisions of the Bombay Public conveyances Act, 1920 shall take into consideration the provisions of Section 11 and the other provisions of the Prevention of Cruelty to Animals Act, 1960 and shall consider whether the places, where the concerned horses are kept, are maintained in hygienic condition or not. As far as, licence to be issued for fitness of horse is concerned, the same shall be considered on the basis of fitness of horses".
PETA questions the certificates issued to the 18 horses who have been given licenses to ply since equine experts have explained that forcing horses to haul carriages on the city's streets is inherently cruel, as it often results in permanent leg damage, collapses and traffic accidents. PETA calls on authorities to confiscate all Victoria horses immediately for drivers who have not been issued licenses to help ensure the safety of people and the welfare of horses while continuing to ask for a total ban on the cruel trade.
"A business based on the abuse of animals can never be regulated into legitimacy", says Dr Manilal Valliyate, director of veterinary affairs for PETA India. "Delhi has banned cruel and dangerous horse-drawn carriages, and Mumbai must do the same."
Poonam Mahajan of People for Animals, one of the other groups intervening in the case, states, "While we welcome the Hon'ble Courts Order, it is inherently cruel to make horses ply on concrete. There is no need to go into individual cases. While we spend hours going into individual cases horses keep having accidents and dying. We need a comprehensive solution like in Delhi. Horses must not be made to suffer on Mumbai's streets a second longer than these wonderful beings already have".
You can help bring in the ban. Learn how you can help.