Veg Food Festival Kicks Off in Chandigarh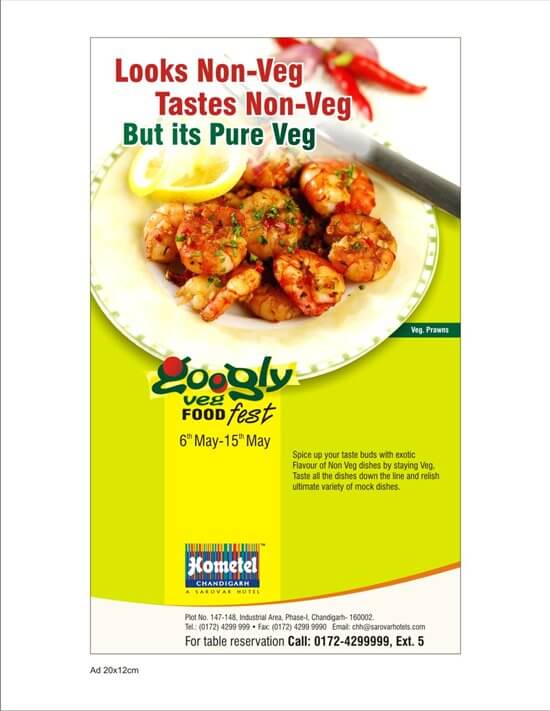 Hometel Chandigarh is hosting an exciting vegetarian "Googly Food Festival" from 6 May to 15 May that will include a wide range of delicious mock-meat preparations.
Some main attractions will be mouth-watering and nutritious vegan dishes like veggie fillet in hot garlic sauce, chilli-pepper "ham" in black-pepper sauce, stir-fried greens with masala "sausages" in burnt chilli sauce, tandoori "ham" with rosemary potato and grilled monk "chicken" with barbeque sauce.
All animals feel pain and fear death just as we do. Chickens killed for food are often crammed into extremely crowded cages and are often slaughtered with blunt knives in full view of each other. Cows and buffaloes on dairy farms are often illegally injected with oxytocin by farmers who believe the drug would make the animal produce more milk. But oxytocin causes severe stomach cramps that are similar to labour pains. Calves on dairy farms are sent to slaughter so that the milk meant for them can be sold. The consumption of animal products is linked to diseases like cancer, heart ailments, diabetes and obesity.
Celebrate health and show compassion to all animals by making a visit with friends and family to Flavours restaurant at Hometel Chandigarh.
Below is the contact information:
Hometel Chandigarh, a Sarovar Hotel
Plot No 147-148, Industrial Area Phase – I, Chandigarh – 160 002
0172 – 4299 999
0172 – 4299 990 (fax)
www.sarovarhotels.com