PETA's Guide to Cheating on Your Spouse
This April Fool's Day, why not fool your spouse and family by serving them faux meat without telling them?
You'll pull off the perfect trick because they'll have no idea that the delicious food they're eating is vegan and also good for their health, easier on the environment and compassionate to animals. Triple score!
Simply substitute versatile vegan meat in any recipe that calls for animal flesh and serve as usual. With its "fooled-you" flavour, your family may never know the difference. Many mock meats taste so much like their meaty counterparts that they've been known to fool even ardent carnivores.
Unlike animal flesh, vegan meat is high in healthy plant protein and fibre, low in saturated fat and free of cholesterol. You'll be doing your friends and family a favour by fooling them. Eating plant-based food helps prevent obesity, hypertension, heart disease, cancer, diabetes, strokes, osteoporosis and even impotence.
Various companies, including Sunshine, make great-tasting mock meats that can be used in "chicken" or "lamb" curries as well as stews, pakoras and other popular dishes. Tofu is also an excellent replacement for meat because it absorbs flavours very well. Firm tofu works especially well when marinated, baked or stir-fried.
Here are a couple of our favourite recipes to inspire you:
Faux-Fish Curry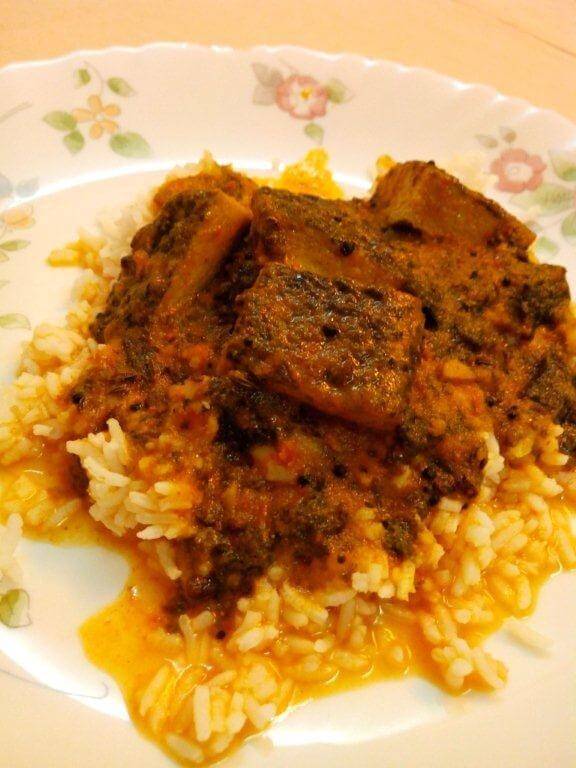 1 pkg (380 g) Sunshine Veg Black Pomfret (or the same amount of any other kind of vegan faux fish), defrosted and cut into 2-inch pieces
Oil, for frying
1/2 tsp fennel seeds
1/2 tsp rice seeds
1/2 tsp mustard seeds
1/2 tsp cumin seeds
1/2 tsp fenugreek seeds
1 medium onion, chopped
1 medium tomato, chopped
5–7 cloves garlic, minced
1-inch piece ginger
1/4 tsp turmeric seeds
1/4 tsp coriander powder
Red chilli powder, to taste
Salt, to taste
1/2 cup water, plus more as needed
1/2 tsp fenugreek powder
Fry the faux fish in a small amount of oil in a non-stick pan on medium heat, then remove from the pan and set aside.
In the same pan, combine the fennel seeds, rice seeds, mustard seeds, cumin seeds and fenugreek seeds. Fry until the mixture begins to crackle.
Mix the onion, tomato, garlic and ginger to form a paste and add to the crackling spices. Cook, stirring constantly, for 3 to 4 minutes. Add the turmeric seeds, coriander powder and red chilli powder and stir until the mixture turns dark red.
Add the salt and 1/2 cup of water and boil until the water reduces to the desired consistency. Add the faux fish and cook on low heat for 5 minutes.
Sprinkle with fenugreek powder and cook for 2 more minutes. If needed, add more water to adjust the consistency.
 Makes 4 servings
Soy Keema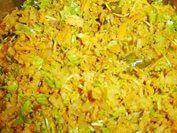 1 Tbsp oil
2 small pieces cardamom
1 star anise
2 large onions, chopped
1 red chilli
5 cloves garlic, chopped
1 tsp chilli powder
1/2 tsp jeera powder
1 1/2 tsp coriander powder
Garam masala powder, to taste (optional)
100 g (1/4 cup) green peas
2 potatoes, boiled and cubed (optional)
1 cup soya granules, boiled and drained
Salt, to taste
Coriander leaves, for garnish
Heat the oil, add the cardamom and star anise and fry over a low flame.
Add the onions and fry until pink.
Add the red chilli and garlic and fry for 1 minute. Add the chilli powder, jeera powder, coriander powder, and garam masala powder and mix well.
Add the peas and potatoes and fry for 3 to 4 minutes.
Add the soya granules and mix well.
Add enough water to cover the keema, then bring to a boil and add salt.
Cook over a low flame until the water is absorbed. Garnish with coriander leaves.
Makes 3 servings
This recipe has been contributed by Dr Nandita Shah of the Sanctuary for Health and Reconnection to Animals and Nature (Sharan-India.org).