Starved Pedigree Dogs Reduced to Skin and Bones Seized by Thane Rural Police Following PETA India Complaint
Acting on a tip from a concerned citizen and a complaint filed by PETA India, the Thane Rural Police at Padgha along with PETA India seized three starving female pedigree dogs – a Dobermann, a Rottweiler, and a boxer – who had been reduced to skin and bones from an illegal "pet" boarding facility in Bapgaon, Kalyan. The facility is not registered with the Maharashtra State Animal Welfare Board. The police and PETA India's rescue team found these young dogs, aged 1 to 1.5 years, in deplorable conditions, including constant caging, being kept hungry for days, and not being provided with necessary treatment for heavy tick infestations on their bodies. They were also suffering from severe anaemia.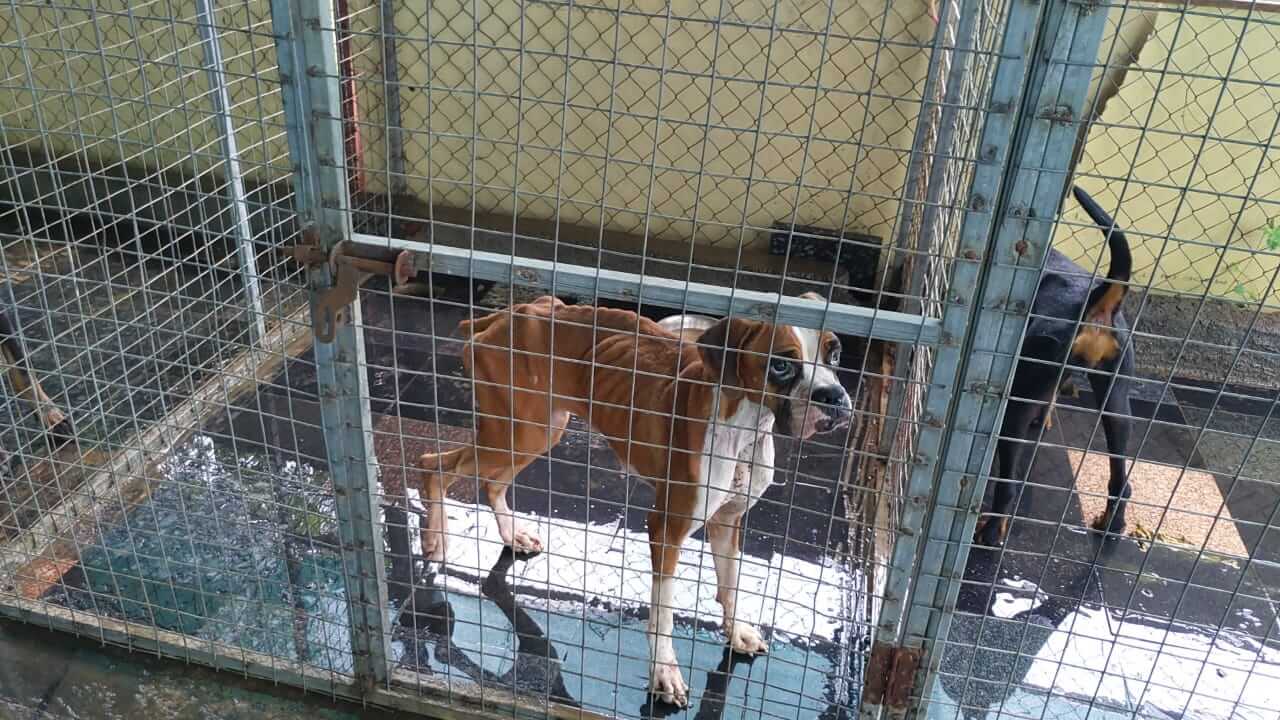 Fearing strict legal action, the owner of the facility submitted a consent letter to the police, relinquishing the animals to PETA India while agreeing never to keep any other dogs at this facility.
Constant confinement of dogs is an apparent violation of Section 11(g) of The Prevention of Cruelty to Animals (PCA) Act, 1960, and Rule 24 of the Prevention of Cruelty to Animals (Dog Breeding and Marketing) Rules, 2017. It's a punishable offence under Section 11(1)(h) of the PCA Act not to provide an animal with sufficient food, and as per Section 11(1)(k), it's an instance of cruelty if anyone keeps a suffering animal without providing necessary veterinary care. The 2017 Rule imposes a prohibition on any breeder, including a boarding kennel operator, from housing dogs unless such an establishment is registered with the state animal welfare board.
PETA India is urging people to stop buying puppies and kittens and to adopt an animal companion from the community or a shelter instead. Pedigree dogs sold in pet shops and by breeders are typically deprived of proper veterinary care, adequate food, exercise, affection, and socialisation. Because they're bred for certain exaggerated physical traits, such as long ears or drooping backs, many foreign dog breeds – including boxers, German shepherds, and pugs – suffer from abnormally high rates of genetic and hereditary diseases. Common ailments found in purebred dogs include breathing problems, cancer, heart disease, bleeding disorders, skeletal malformation, and eye problems. In contrast, Indian community dogs are healthier and more robust.