Stars and More Than 8,000 Students Back Government Proposal to Ban Animal Circuses
PETA India submitted a petition with the signatures of over 8,000 students and celebrities – including Vidya Balan, Raveena Tandon-Thadani , Sonu Sood, Shilpa Shetty-Kundra , John Abraham, R Madhavan, Dia Mirza, and Sunny Leone – in support of the Ministry of Environment, Forest and Climate Change's (MoEF&CC) proposed notification to ban the use of elephants, horses, and all other animals in circuses across the country. The government is expected to vote on the proposal after the public feedback period ends on 27 December. Students who have taken part include those from Mumbai's Ajmera Global School, The Cathedral & John Connon Junior School, and Apostolic Carmel High School and Junior College; Delhi's Vishal Bharti Public School; and Chennai's German International School, to name just a few.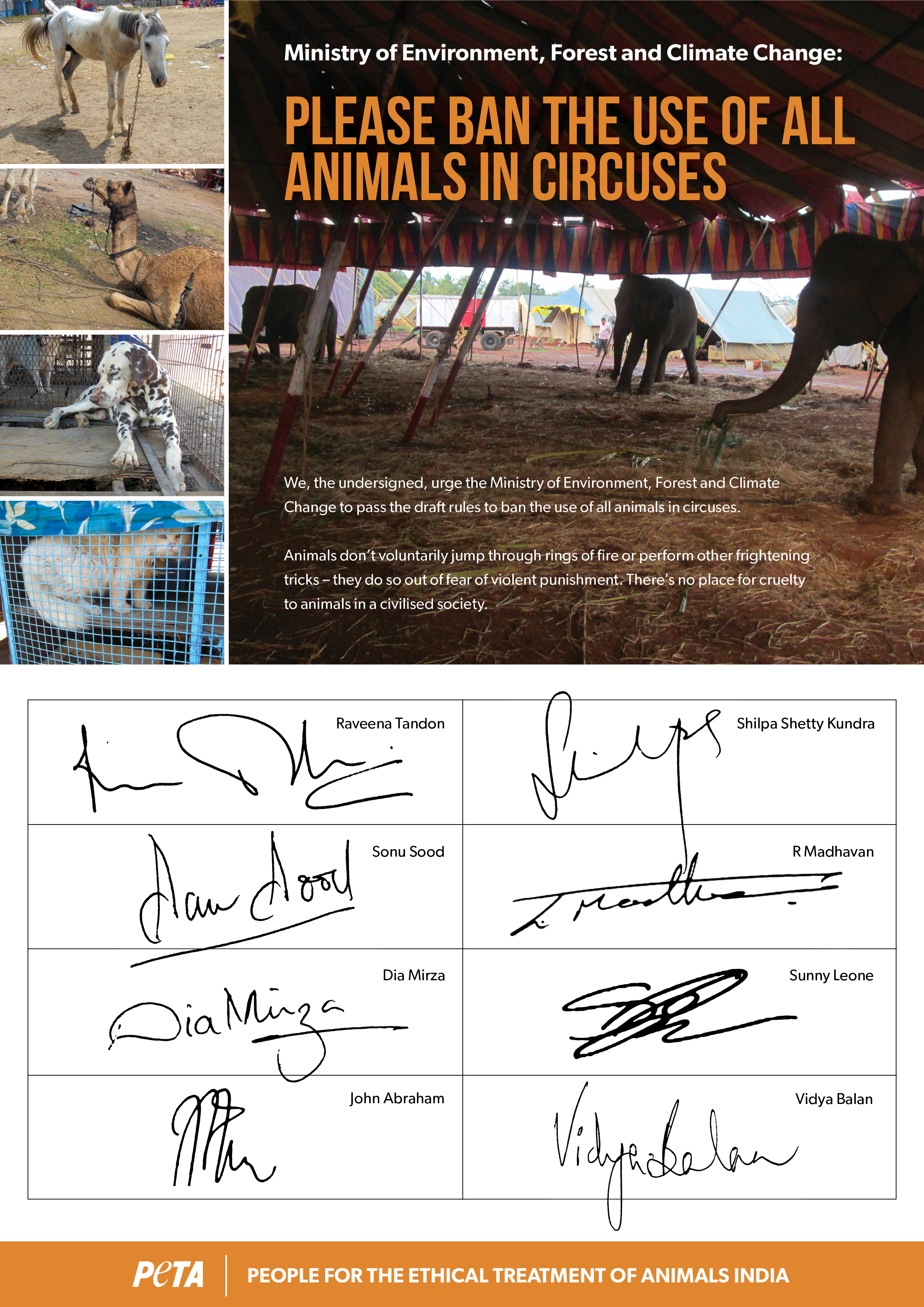 A nine-month government-authorised inspection of 16 circuses across India in 2013 – as well as other inspections by expert teams from 2013 to 2016 – revealed systemic, widespread abuse of elephants, horses, camels, dogs, birds, and other animals. Drunken circus staff roughly handled animals, handlers were documented beating elephants with ankuses (weapons with a sharp metal hook on one end), and animals were kept continuously chained or caged and deprived of veterinary care, appropriate food, sufficient water, and safe and clean shelter. Many exhibited signs of severe psychological distress, including constant swaying and self-mutilation.
In its nearly two decades of work to end the use of animals in circuses, PETA India has elicited help from compassionate celebrities, petitioned the MoEF&CC, worked with government regulatory bodies such as the Animal Welfare Board of India and the Central Zoo Authority, engaged in litigation, organised demonstrations and social media campaigns, and held street-theatre performances.
PETA India notes that if this proposal passes, India will join many other countries – including Austria, Bolivia, Costa Rica, Greece, Mexico, and Poland – in banning or restricting the use of animals in circuses.
You can help! Tweet before 27 December to help ban animal circuses in India: