PETA Youth: Ticket to a Great Job? Could Be!
An article in the Hindustan Times discussed how some of the most prestigious companies in India are focusing on new hires who have a strong commitment to social causes and some experience to go along with it. In fact, PETA was singled out as one of the organisations that attracts exactly the kind of people these companies are looking for. So in addition to helping animals at every turn – and making sure that everyone has fun doing it – PETA Youth's Street Teamers network could be your pathway to a satisfying and lucrative job.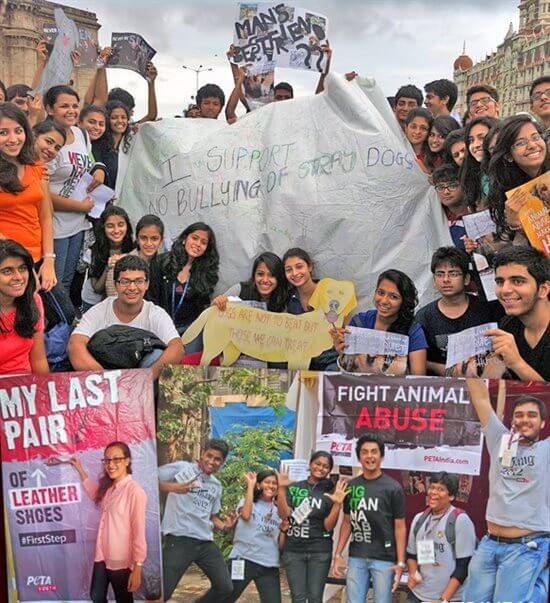 PETA Youth – PETA India's division for teens and 20-somethings – takes on animal abuse like no one else. Rallies, street theatre–style demonstrations, graffiti walls at college fests – you name it. Do you feel that you might not be up on all the issues? We've got you covered with literature and videos on everything from cruel and irrelevant experiments on animals to how eating meat and dairy products is like taking a wrecking ball to your health. If that still doesn't have you in your comfort zone, just e-mail your questions to [email protected] for some one-on-one contact with our staff.
If festivals are your thing, take your pick: Sunburn, the Escape Festival of Art and Music, NH7 Weekender and the Strawberry Fields Forever Music Festival. PETA Youth is front and centre at all of them. Into music? Then you'll be happy to learn that many of the biggest names in Indian rock are on our side, including Indian Ocean, Parikrama, Pentagram, Raghu Dixit Project and many more.
Are you ready to get active with the boldest animal rights group in India? Just sign up, and we'll help you lead the charge against anyone who abuses animals.