PETA India Demands Action Against Illegal Kambala Races
With the Supreme Court likely to hear the stay application of PETA India regarding kambala races on 12 February, we sent letters to the Superintendents of Police (SPs) for the Dakshina Kannada and Udupi districts urging that First Information Reports be filed against the organisers of illegal kambala (buffalo race) events held there since 26 December 2017 – the date from which The Prevention of Cruelty to Animals (Karnataka Amendment) Ordinance, 2017, is no longer operative – for apparently violating animal-protection laws, as well as the 2014 judgment of the Supreme Court of India and the 2016 order of the Karnataka High Court, which banned kambala events. We also urged the SPs to stop any other illegal events like these in the jurisdictions.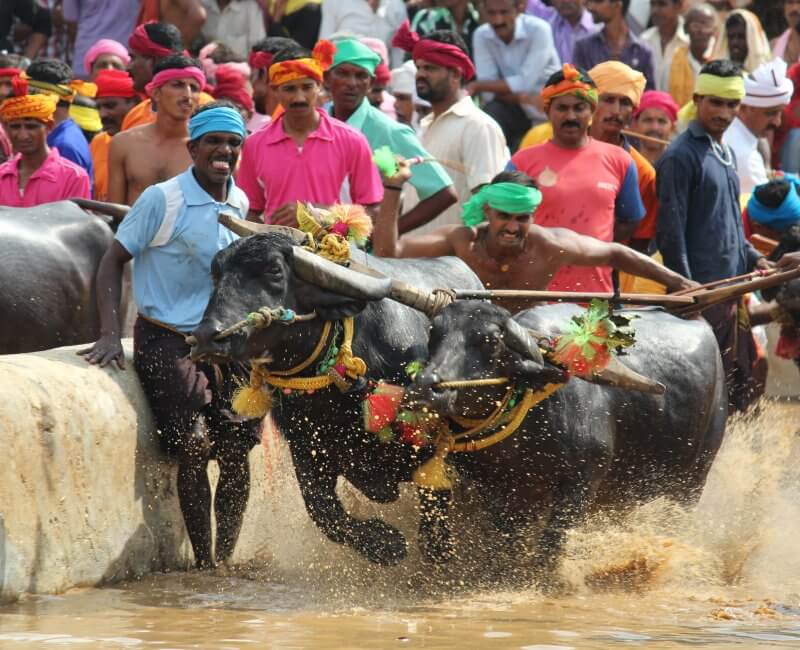 In the letters, we pointed out that although the Supreme Court of India banned kambala races in its 7 July 2014 judgment and in Animal Welfare Board of India v A Nagaraja and Ors and the High Court of Karnataka acted on our petition in its 18 November 2016 order stopping kambala events, the Government of Karnataka notified The Prevention of Cruelty to Animals (Karnataka Amendment) Ordinance, 2017, on 20 July 2017, allowing kambala and other bullock cart races. However, as per Article 213 of the Constitution of India, any ordinance shall cease to operate six weeks after the reassembly of the legislature. Because the state legislature reassembled on 13 November 2017, the ordinance ceased to be in effect on 26 December 2017. Hence, any kambala or bullock cart race organised in Karnataka since that date is in violation of The Prevention of Cruelty to Animals Act, 1960, and the 11 July 2011 notification of the central government, which prohibits the use of bulls as performing animals. The Prevention of Cruelty to Animals (Karnataka Amendment) Bill, 2017 – which was passed by the Karnataka Legislative Assembly on 17 November 2017 – has not yet received assent from the President of India.
Following the notification of the ordinance, we investigated seven kambala events held in the state and found that buffalo bulls were pushed, pulled by their nose ropes, dragged to the starting point, and repeatedly beaten with wooden sticks throughout the race. Some also had marks on their bodies from past beatings. Many who finished the race were frothing at the mouth, salivating heavily, and displaying increased respiration rates, demonstrating that they're anatomically unsuited to racing and that no amount of regulation can change this scientific fact. At many of the events, organisers repeatedly announced over the public-address system that spectators weren't allowed to use mobile phones or cameras to record the races, emphasising that they have something to hide and that cruelty to animals is inherent in such activities.
Take action now to help buffaloes: