PETA Germany Is in Ukraine, Moving Mountains to Get to Animals in Need
For latest updates on the work of PETA entities in Ukraine, click here.
PETA HELPS UKRAINE is a project of PETA Germany, supported by PETA's Global Compassion Fund.
Update: Friday, 4 March 2022
PETA Germany successfully completed two parallel rescue missions in Ukraine on the night of Thursday, 3 March.
The first, in collaboration with Viva! Poland, was in the Lviv area, where the team picked up around 100 terrified and hungry cats and dogs, many of whom were very sick. They were able to get them safely across the border to Poland, where they are now being treated by veterinarians.
In the second mission, the team, which included fellow activists from Polish animal protection group White Paw, managed to collect another 26 cats and a dog from a shelter in Lviv and bring them back to Poland. During this mission, they also successfully delivered 20 tonnes of desperately needed food and other supplies, which are now being distributed across the country to those in need via a network of brave volunteers.
The teams haven't stopped and will not stop. After their heroic rescue missions, they are back at it today and have just managed to deliver an additional 20 tonnes of supplies!
Originally published on 03 March 2022:
Since the war began last week, hundreds of thousands of people have fled Ukraine. According to the United Nations, about 1 million people are on the move. On Friday, 25 February, a team from PETA Germany rushed to the Polish border with food and other emergency supplies to help, and the group has been providing meals, beds, and assistance with paperwork for refugees and their animals 24/7 since then. This morning (3 March), the team crossed the border into Ukraine with 20 tonnes of food and other supplies for animal shelters that have run out of everything. The situation is critical for everyone involved, and PETA Germany is pulling out all the stops to help.
Despite getting all the necessary documents and permissions to make the risky journey, things during a war are unpredictable and the team has been held up for hours while the contents of their truck have been X-rayed and opened – but they are desperately hoping to be on the road again soon.
Bringing Animals out of Ukraine to Safety
In collaboration with Polish animal protection group White Paw, a smaller convoy was sent ahead to a shelter, and now, they are transferring animals into their vehicles in the hope of getting them to safety in Poland. The roads are extremely congested and are proving to be another challenge on top of many others.
If all goes well, our brave rescuers will be back in Poland tonight with the first group of rescued animals in tow.
PETA Germany made it to the Polish border with a delivery of food & support for Ukrainians & their companion animals in desperate need of protection! 💛💙 pic.twitter.com/yrkjKVegIx

— PETA (@peta) February 27, 2022
Food for Animals in Need
Shops in Ukraine are closed, and supplies are running out, so it's vital that the transporter with the 20 tonnes of food be able to get back on the road soon. We hope it will be the first of many, and there's already another truck full of food and other emergency supplies on its way to Poland.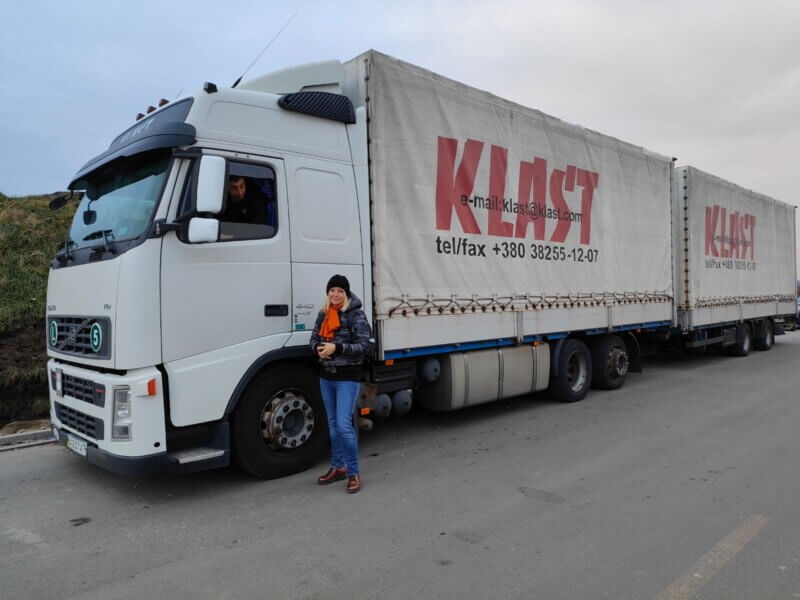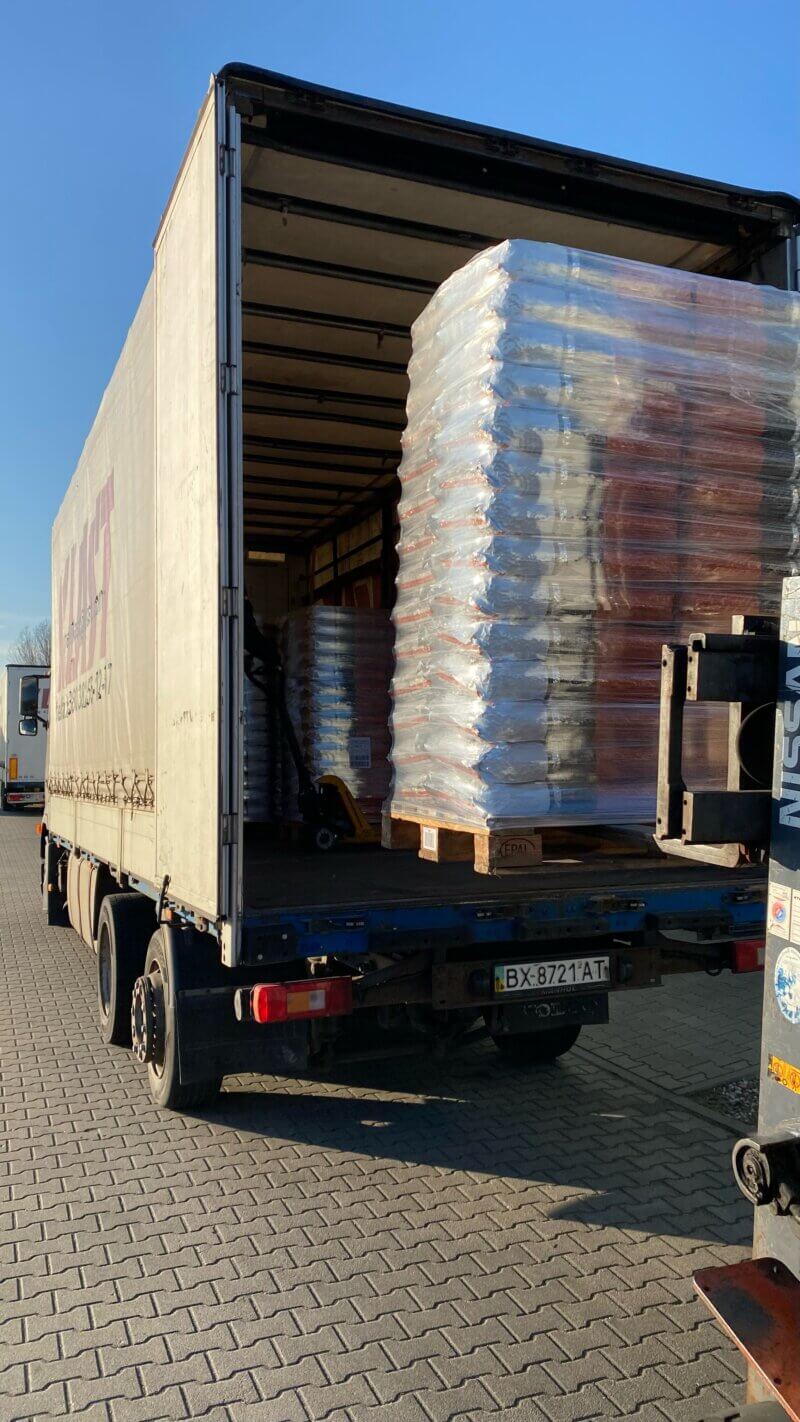 This brave woman walked about 60 kms with her beloved cat. She was so exhausted that she couldn't no longer stand after crossing the border. They are both safe now, and are receiving support from PETA Germany. ♥️ pic.twitter.com/FU3SuOXa5U

— PETA UK (@PETAUK) February 27, 2022
Arriving at the Ukrainian Border on Friday, 25 February
Immediately after arriving at the Polish border, PETA Germany's team helped Crimsee, the cat photographed above, who was carried by his caring guardian about 60 kilometres from the war zone. The woman was so exhausted she could barely stand.
This cat was carried by a refugee looking for shelter more than 60 kilometers from the war zone.

PETA Germany provided them both with necessary care & supplies.

Humans & animals stuck in Ukraine are debilitated & frightened—they need all the support they can get. pic.twitter.com/Th0TUaZMv8

— PETA (@peta) February 27, 2022
They are both now safe.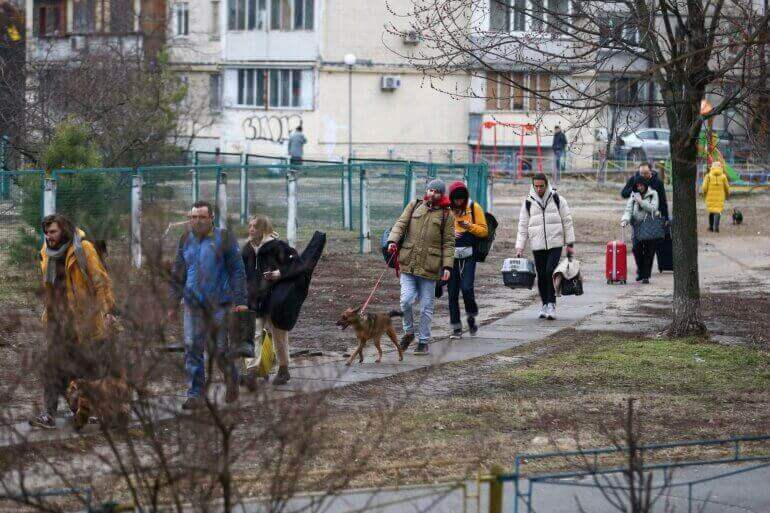 © Ратынский Вячеслав / UNIAN
PETA Germany's team also responded to a call for help involving several dogs who were crossing the border with their human guardians and needed urgent care. All of them were debilitated and frightened.
PETA Entities Call For Safe Passage for People and Animals Into the EU and India
Many EU countries have now relaxed the entry requirements for animals, who must normally be vaccinated and microchipped and have had a recent rabies antibody test. After hearing from PETA India, India has relaxed its entry requirements for dogs and cats from Ukraine, too. Without these changes, refugees would have to abandon their beloved animal companions, which, of course, many would never do, leaving these families with nowhere to go.
UPDATE: Poland, Romania, and Hungary have made it easier for Ukrainians fleeing violence to bring their companion animals to safety!

Other countries need to follow their lead and simplify border restrictions for people and their animals. https://t.co/8L1maIjh9L https://t.co/68W3OD5ZB0

— PETA (@peta) February 26, 2022
We will update this page with news as we receive it.
Donate:
Help support PETA Germany's work on the border. Donate to PETA's Global Compassion Fund:
DONATE NOW
*****
We have received reports of people who want to help going to Ukrainian border countries.
 We strongly advise against it. More and more border stations are reportedly closing to private individuals. Only shipments of aid that have been verified by customs are being allowed into Ukraine. Major aid organisations are on duty at the borders and coordinating help for refugees – with and without animals – so the best thing individuals can do is support these organisations.