Neil Nitin Mukesh Asks Fans to Relate to Elephants' Fate
Neil Nitin Mukesh Asks Fans to Relate to Elephants' Fate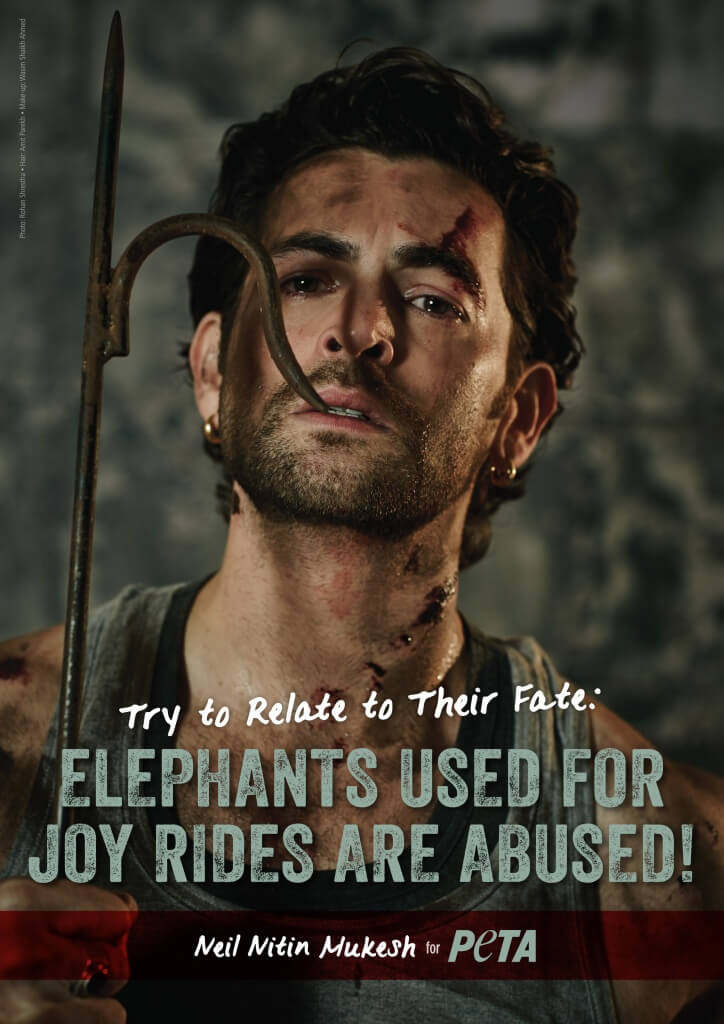 Rohan Shresha
Fresh on the heels of his successful role in the box-office hit Prem Ratan Dhan Payo and his latest box-office thriller, Wazir, actor Neil Nitin Mukesh is stepping into the spotlight again – but this time, he is posing as an abused elephant in a jarring new campaign for PETA to urge people not to go on elephant joyrides. The campaign was shot by internationally acclaimed photographer Rohan Shrestha. Amit Parekh provided hair styling, and Wasim Shaikh Ahmed did Neil's dramatic make-up.
The SIIMA Best Actor in a Negative Role award winner knows how to spot malice when he sees it. PETA-commissioned investigations of elephant "training" in Nepal and rides in Jaipur revealed that elephants are physically and emotionally abused, often being torn away from their mothers at just 2 years old. Baby elephants are then shackled with heavy chains and ropes or confined to tiny wooden enclosures. Trainers beat them with sticks and jab them with iron hooks called "ankuses" until they lose all hope and begin to obey commands – abuse that sometimes goes on for months. Trainers also pierce elephants' sensitive ears so they can yank on them and force the animals to walk in a certain fashion. They're beaten for hesitating or making mistakes, and once trained, they're forced to give people rides – even if they are injured.
Neil wants fans to relate to these elephants' fate and stop going on rides, which perpetuate abuse. "Let's bring enrichment into the lives of elephants by pledging never to use elephants for joyrides", the Wazir actor says. "A fleeting moment of amusement means a lifetime of suffering for these gentle mammals whose spirit is broken through the ruthless torture caused by the ankus and chains."
There's nothing joyful for elephants about joyrides. Pledge compassion by not going on these cruel rides. Please share Neil's unsettling campaign with your friends and family to help spread the word.